The Virtual Toxicology Journal Club: the Dissemination and Discussion of Noteworthy Manuscripts Using Twitter
A healthcare social media research article published in Journal of Medical Toxicology, June 19, 2018
Title

The Virtual Toxicology Journal Club: the Dissemination and Discussion of Noteworthy Manuscripts Using Twitter

Authors (alpha)

Anne-Michelle Ruha, Derek L. Monette, Howard Greller, Jeff Lapoint, Kelly E. Wong, Mark B. Mycyk, Meghan B. Spyres, Peter R. Chai

Published

June 19, 2018

Journal

Journal of Medical Toxicology

DOI

Pubmed

Altmetric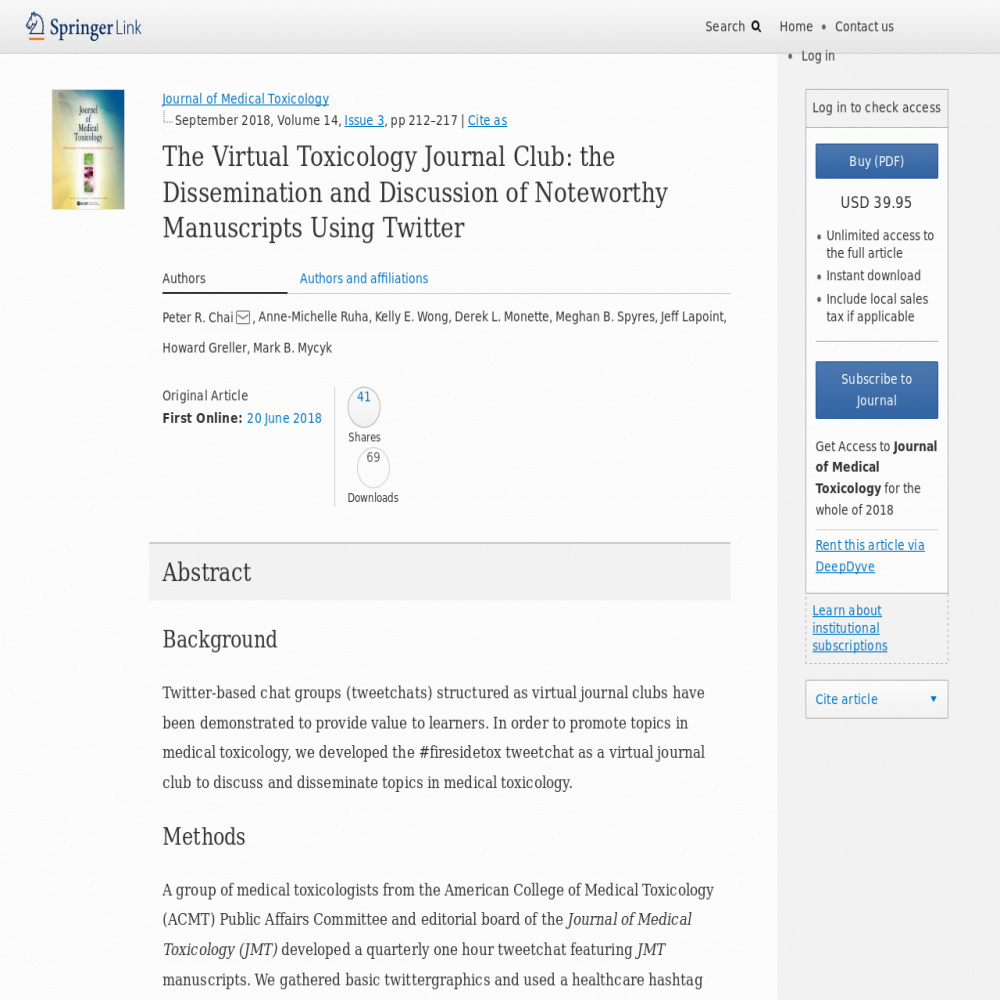 Abstract
Twitter-based chat groups (tweetchats) structured as virtual journal clubs have been demonstrated to provide value to learners. In order to promote topics in medical toxicology, we developed the #firesidetox tweetchat as a virtual journal club to discuss and disseminate topics in medical toxicology. A group of medical toxicologists from the American College of Medical Toxicology (ACMT) Public Affairs Committee and editorial board of the Journal of Medical Toxicology (JMT) developed a quarterly one hour tweetchat featuring JMT manuscripts. We gathered basic twittergraphics and used a healthcare hashtag aggregator to measure the number of impressions, participants, and tweets per tweetchat session. A qualitative analysis of important themes from #firesidetox was also completed. During five tweetchats over 12 months, we attracted a mean of 23 participants generating a mean of 150 tweets per #firesidetox tweetchat. Tweets generated a mean of 329,200 impressions (unique user views): these impressions grew by 300% from the first through fifth #firesidetox. The majority of participants self-identified as medical toxicologists or physician learners. Although most were from the USA, participants also came from Australia, Poland, and Qatar. Most tweets centered on medical education and 7.9% tweets were learner-driven or questions asking for a medical toxicologist expert opinion. The #firesidetox attracted a diverse group of toxicologists, learners, and members of the public in a virtual journal club setting. The increasing number of impressions, participants, and tweets during #firesidetox demonstrates the tweetchat model to discuss pertinent toxicology topics is feasible and well received among its participants.
---
Symplur Signals for Academic Research
Symplur Signals provides researchers with a simple research interface, rich datasets, powerful filtering, and algorithms with natural language processing capabilities optimized for our context of healthcare. Get access to up to 7 years of history from this trusted academic research platform.
Subscribe Now
Healthcare Social Media Research
See the full list of healthcare social media research articles with data from or reference to Symplur.
#hcsmR is a collaboration between Stanford Medicine X and Symplur.
---
Altmetric
The Altmetric Attention Score is based on the attention a research article gets on the internet. Each coloured thread in the circle represents a different type of online attention and the number in the centre is the Altmetric Attention Score. The score is calculated based on two main sources of online attention: social media and mainstream news media.