Tweeting the Meeting: Twitter Use at The American Society of Breast Surgeons Annual Meeting 2013–2016
A healthcare social media research article published in Annals of Surgical Oncology, July 6, 2016
Title

Tweeting the Meeting: Twitter Use at The American Society of Breast Surgeons Annual Meeting 2013–2016

Authors (alpha)

Deanna J. Attai, Diane M. Radford, Michael S. Cowher

Published

July 6, 2016

Journal

Annals of Surgical Oncology

Impact Factor

3.655

DOI

Pubmed

Altmetric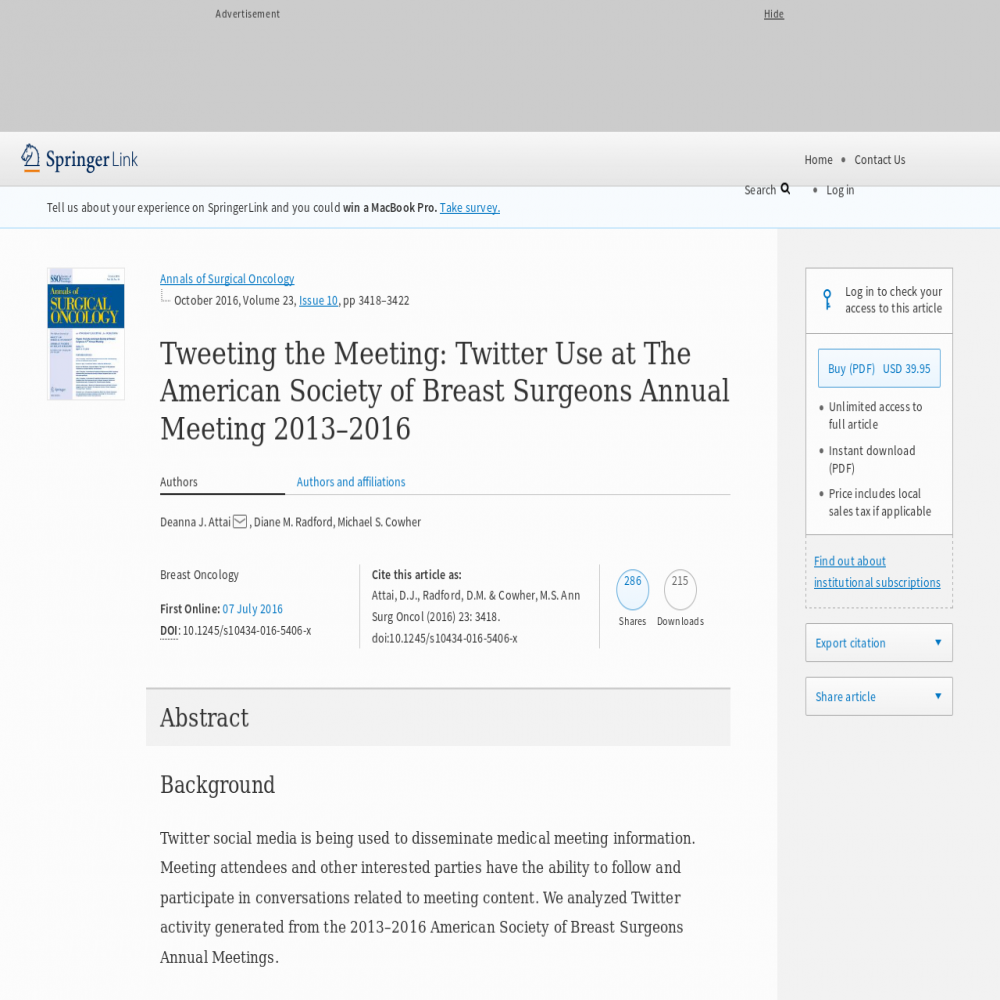 Abstract
Twitter social media is being used to disseminate medical meeting information. Meeting attendees and other interested parties have the ability to follow and participate in conversations related to meeting content. We analyzed Twitter activity generated from the 2013-2016 American Society of Breast Surgeons Annual Meetings. The Symplur Signals database was used to determine number of tweets, tweets per user, and impressions for each meeting. The number of unique physicians, patients/caregivers/advocates, and industry participants was determined. Physician tweeters were cross-referenced with membership and attendance rosters. Tweet transcripts were analyzed for content and tweets were categorized as either scientific, social, administrative, industry promotion, or irrelevant. From 2013 to 2016, the number of tweets increased by 600 %, the number of Twitter users increased by 450 %, and the number of physician tweeters increased by 457 %. The number of impressions (tweets × followers) increased from more than 3.5 million to almost 20.5 million, an increase of 469 %. The majority of tweets were informative (70-80 %); social tweets ranged from 13 to 23 %. A small percentage (3-6 %) of tweets were related to administrative matters. There were very few industry or irrelevant tweets. Twitter social media use at the American Society of Breast Surgeons annual meeting showed a substantial increase during the time period evaluated. The use of Twitter during professional meetings is a tremendous opportunity to share information. The authors feel that medical conference organizers should encourage Twitter participation and should be educating attendees on the proper use of Twitter.
---
Symplur Signals for Academic Research
Symplur Signals provides researchers with a simple research interface, rich datasets, powerful filtering, and algorithms with natural language processing capabilities optimized for our context of healthcare. Get access to up to 7 years of history from this trusted academic research platform.
Subscribe Now
Healthcare Social Media Research
See the full list of healthcare social media research articles with data from or reference to Symplur.
#hcsmR is a collaboration between Stanford Medicine X and Symplur.
---
Altmetric
The Altmetric Attention Score is based on the attention a research article gets on the internet. Each coloured thread in the circle represents a different type of online attention and the number in the centre is the Altmetric Attention Score. The score is calculated based on two main sources of online attention: social media and mainstream news media.