Twitter in urology and other surgical specialties at global conferences
A healthcare social media research article published in Australian & New Zealand Journal of Surgery, December 2, 2015
Title

Twitter in urology and other surgical specialties at global conferences

Authors (alpha)

Amanda Chung, Henry Woo

Published

December 2, 2015

Journal

Australian & New Zealand Journal of Surgery

DOI

Pubmed

Altmetric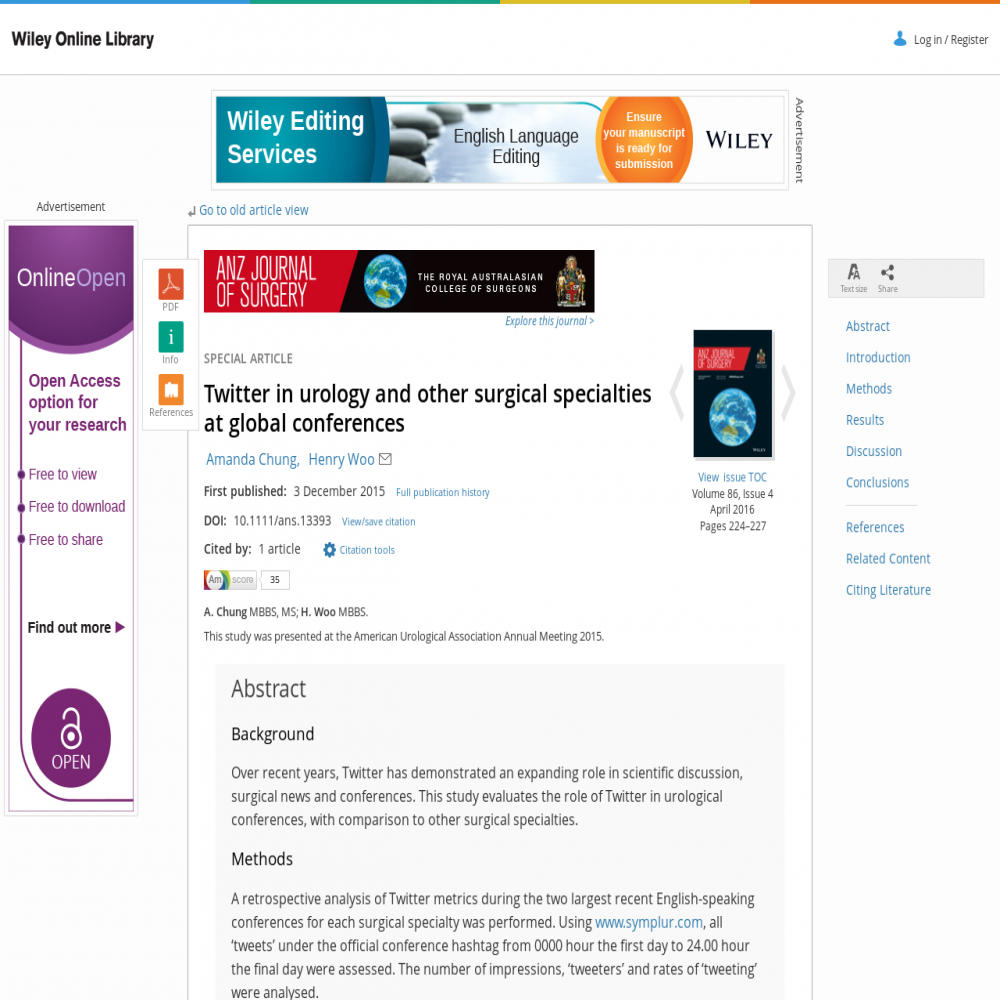 Abstract
Over recent years, Twitter has demonstrated an expanding role in scientific discussion, surgical news and conferences. This study evaluates the role of Twitter in urological conferences, with comparison to other surgical specialties. A retrospective analysis of Twitter metrics during the two largest recent English-speaking conferences for each surgical specialty was performed. Using www.symplur.com, all 'tweets' under the official conference hashtag from 0000 hour the first day to 24.00 hour the final day were assessed. The number of impressions, 'tweeters' and rates of 'tweeting' were analysed. Nine of 18 conferences examined had official hashtags registered with Symplur Healthcare Hashtags. Plastic and urological surgery had both major conferences registered. Only one of two conferences for each cardiothoracic, general, orthopaedic, otolaryngology and paediatric was registered. Both major neurosurgical and vascular conferences were unregistered. Urological conferences were associated with significantly more Twitter activity than non-urological surgical conferences in all parameters, with greater than triple the number of impressions, tweets and 'tweeters'. Urological surgical conferences were associated with 337% more tweets and 164% more impressions per conference day, than non-urological surgical conferences. Twitter has been used to supplement surgical conferences. In this regard, the urological community leads the way compared to the remainder of surgical specialty communities.
---
Symplur Signals for Academic Research
Symplur Signals provides researchers with a simple research interface, rich datasets, powerful filtering, and algorithms with natural language processing capabilities optimized for our context of healthcare. Get access to up to 7 years of history from this trusted academic research platform.
Subscribe Now
Healthcare Social Media Research
See the full list of healthcare social media research articles with data from or reference to Symplur.
#hcsmR is a collaboration between Stanford Medicine X and Symplur.
---
Altmetric
The Altmetric Attention Score is based on the attention a research article gets on the internet. Each coloured thread in the circle represents a different type of online attention and the number in the centre is the Altmetric Attention Score. The score is calculated based on two main sources of online attention: social media and mainstream news media.