Twitter Use in the Hematopoietic Cell Transplantation Community
A healthcare social media research article published in Current Hematologic Malignancy Reports, January 25, 2018
Title

Twitter Use in the Hematopoietic Cell Transplantation Community

Authors (alpha)

Navneet S. Majhail, Sagar S. Patel

Published

January 25, 2018

Journal

Current Hematologic Malignancy Reports

Impact Factor

2.2

DOI

Pubmed

Altmetric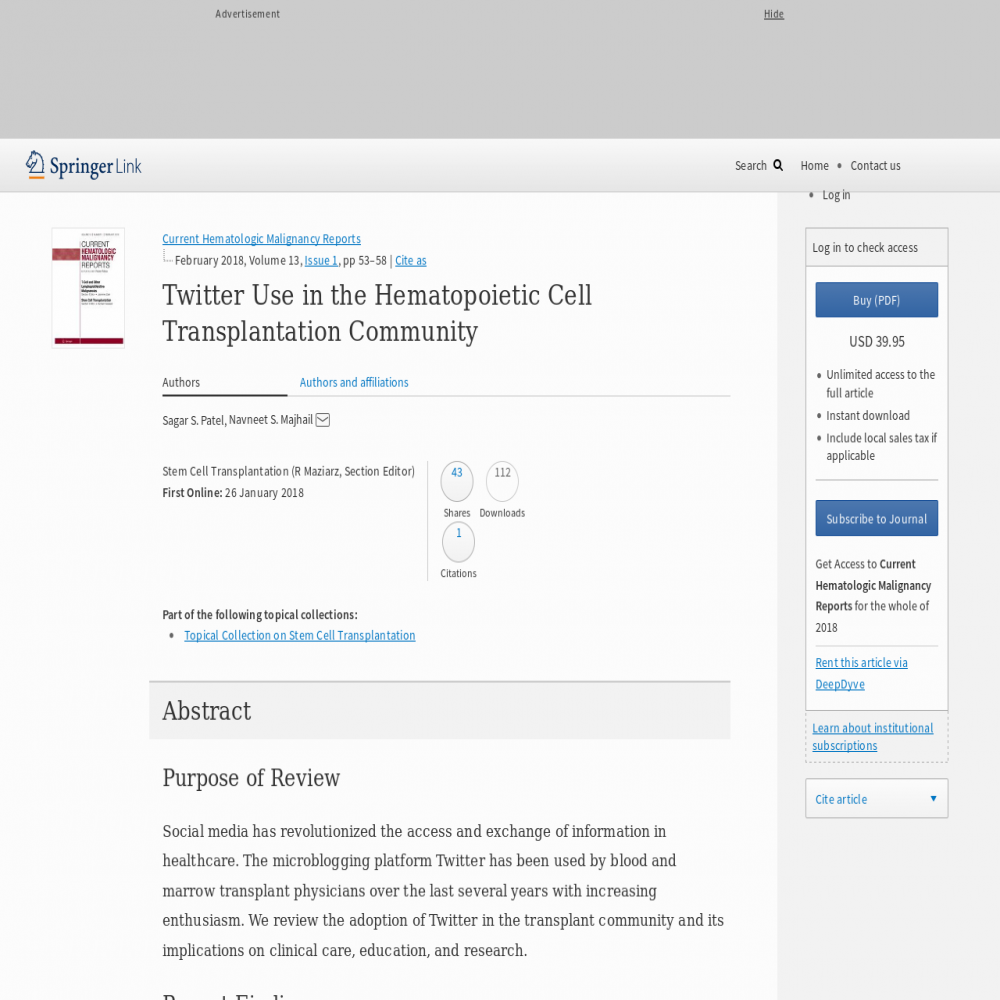 Abstract
Social media has revolutionized the access and exchange of information in healthcare. The microblogging platform Twitter has been used by blood and marrow transplant physicians over the last several years with increasing enthusiasm. We review the adoption of Twitter in the transplant community and its implications on clinical care, education, and research. Twitter allows instantaneous access to the latest research publications, developments at national and international meetings, networking with colleagues, participation in advocacy, and promoting available clinical trials. Additionally, Twitter serves as a gateway for resources dedicated to education and support for patients undergoing transplantation. We demonstrate the utilization and various applications in using Twitter among hematopoietic cell transplant healthcare professionals, patients, and other affiliated stakeholders. Professionalism concerns with clinician use of such social media platforms, however, also exist. Overall, Twitter has enhanced and increased the opportunities for engagement in the transplant community.
---
Symplur Signals for Academic Research
Symplur Signals provides researchers with a simple research interface, rich datasets, powerful filtering, and algorithms with natural language processing capabilities optimized for our context of healthcare. Get access to up to 7 years of history from this trusted academic research platform.
Subscribe Now
Healthcare Social Media Research
See the full list of healthcare social media research articles with data from or reference to Symplur.
#hcsmR is a collaboration between Stanford Medicine X and Symplur.
---
Altmetric
The Altmetric Attention Score is based on the attention a research article gets on the internet. Each coloured thread in the circle represents a different type of online attention and the number in the centre is the Altmetric Attention Score. The score is calculated based on two main sources of online attention: social media and mainstream news media.