Use of Twitter Polls to Determine Public Opinion Regarding Content Presented at a Major National Specialty Society Meeting
A healthcare social media research article published in Journal of the American College of Radiology, January 31, 2017
Title

Use of Twitter Polls to Determine Public Opinion Regarding Content Presented at a Major National Specialty Society Meeting

Authors (alpha)

Andrew B. Rosenkrantz, C. Matthew Hawkins

Published

January 31, 2017

Journal

Journal of the American College of Radiology

Impact Factor

2.929

DOI

Pubmed

Altmetric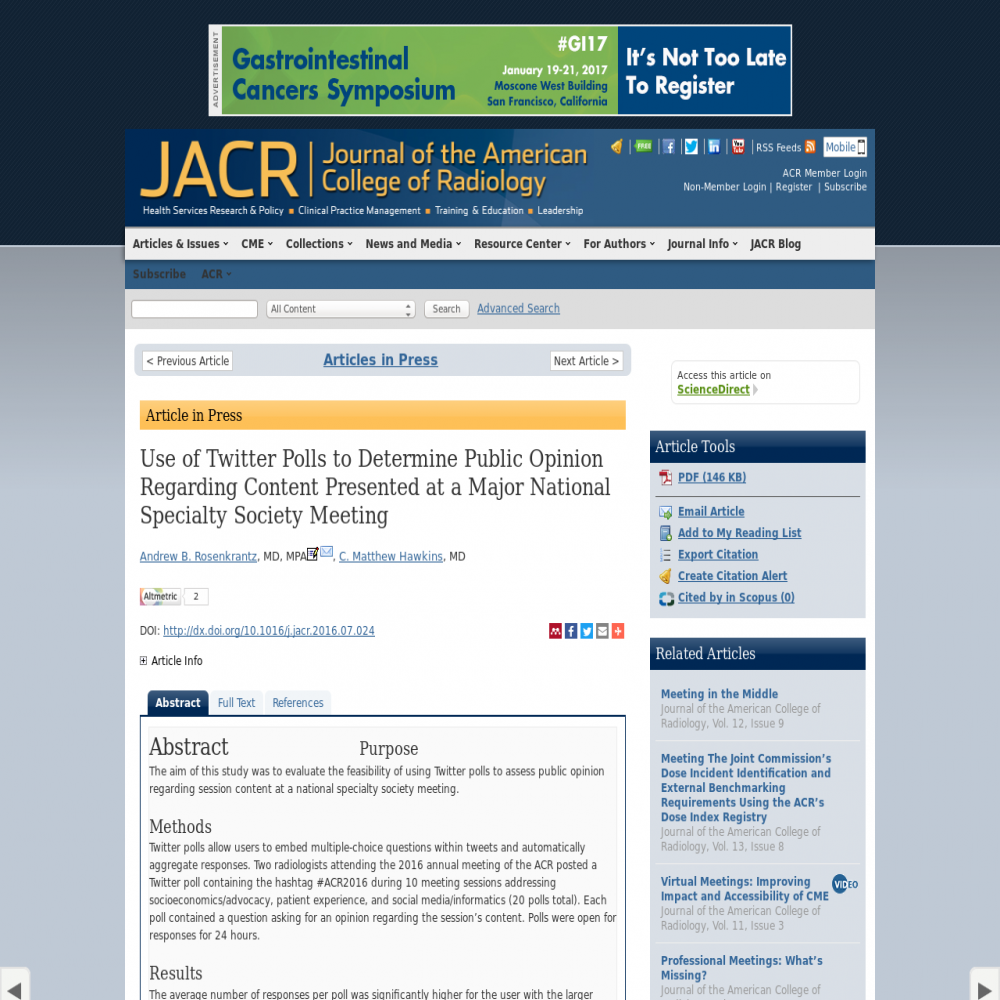 Abstract
The aim of this study was to evaluate the feasibility of using Twitter polls to assess public opinion regarding session content at a national specialty society meeting. Twitter polls allow users to embed multiple-choice questions within tweets and automatically aggregate responses. Two radiologists attending the 2016 annual meeting of the ACR posted a Twitter poll containing the hashtag #ACR2016 during 10 meeting sessions addressing socioeconomics/advocacy, patient experience, and social media/informatics (20 polls total). Each poll contained a question asking for an opinion regarding the session's content. Polls were open for responses for 24 hours. The average number of responses per poll was significantly higher for the user with the larger number of Twitter followers (24.3 ± 14.4 versus 11.2 ± 9.8, P = .015). A total of 57% of respondents agreed that radiologists' payments should shift to value-based payments, and 86% agreed that radiologists should routinely survey their patients to monitor quality; however, 83% disagreed with basing physician payments on patient satisfaction scores. A total of 85% disagreed that the artificial intelligence supercomputer Watson will entirely replace radiologists. A total of 76% agreed that social media can drive business at less cost than standard marketing. A total of 56% agreed with the direction of the ACR's advocacy and regulatory efforts, whereas 74% considered the ACR's advocacy efforts to be moderately or very useful for their practice. A total of 50% planned to change their practice on the basis of keynote remarks by Dr Ezekiel Emanuel. Twitter polls provide a free and easy infrastructure to potentially capture global public sentiment during the course of a medical society meeting. Their use may enrich and promote discussions of key session content.
---
Symplur Signals for Academic Research
Symplur Signals provides researchers with a simple research interface, rich datasets, powerful filtering, and algorithms with natural language processing capabilities optimized for our context of healthcare. Get access to up to 7 years of history from this trusted academic research platform.
Subscribe Now
Healthcare Social Media Research
See the full list of healthcare social media research articles with data from or reference to Symplur.
#hcsmR is a collaboration between Stanford Medicine X and Symplur.
---
Altmetric
The Altmetric Attention Score is based on the attention a research article gets on the internet. Each coloured thread in the circle represents a different type of online attention and the number in the centre is the Altmetric Attention Score. The score is calculated based on two main sources of online attention: social media and mainstream news media.