Weight loss support seeking on twitter: the impact of weight on follow back rates and interactions
A healthcare social media research article published in Translational Behavioral Medicine, July 20, 2016
Title

Weight loss support seeking on twitter: the impact of weight on follow back rates and interactions

Authors (alpha)

Christine N. May, Effie Olendzki, Jennifer Carey, Jessica L. Oleski, Martinus Evans, Molly E. Waring, Sherry L. Pagoto, Stephanie Rodrigues

Published

July 20, 2016

Journal

Translational Behavioral Medicine

Impact Factor

2.189

DOI

Pubmed

Altmetric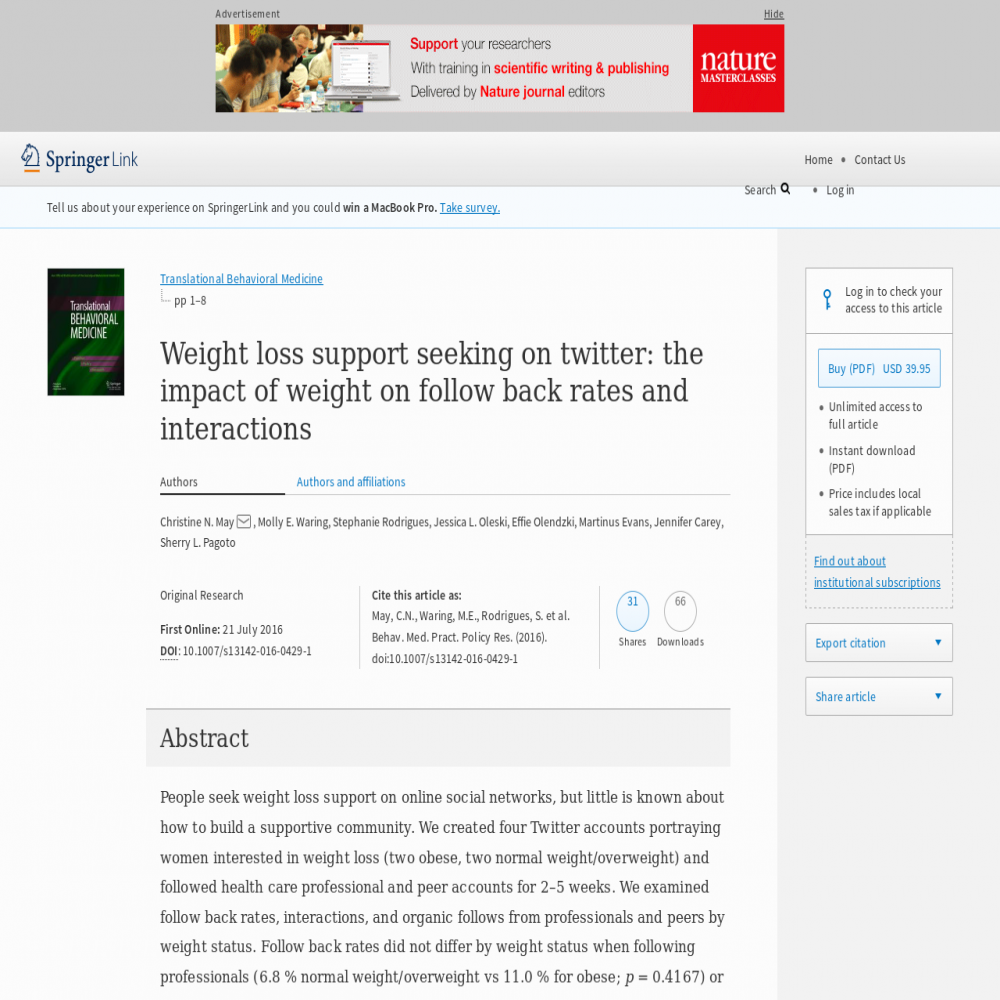 Abstract
People seek weight loss support on online social networks, but little is known about how to build a supportive community. We created four Twitter accounts portraying women interested in weight loss (two obese, two normal weight/overweight) and followed health care professional and peer accounts for 2-5 weeks. We examined follow back rates, interactions, and organic follows from professionals and peers by weight status. Follow back rates did not differ by weight status when following professionals (6.8 % normal weight/overweight vs 11.0 % for obese; p = 0.4167) or peers (6.7 % for normal weight/overweight vs 10.8 % for obese; p = 0.1548). Number of interactions and organic followers also did not differ by weight status. Peers interacted with study accounts significantly more than professionals (p = 0.0138), but interactions were infrequent. Women seeking weight loss support on Twitter may need to be present for more than 5 weeks to build an interactive weight loss community.
---
Symplur Signals for Academic Research
Symplur Signals provides researchers with a simple research interface, rich datasets, powerful filtering, and algorithms with natural language processing capabilities optimized for our context of healthcare. Get access to up to 7 years of history from this trusted academic research platform.
Subscribe Now
Healthcare Social Media Research
See the full list of healthcare social media research articles with data from or reference to Symplur.
#hcsmR is a collaboration between Stanford Medicine X and Symplur.
---
Altmetric
The Altmetric Attention Score is based on the attention a research article gets on the internet. Each coloured thread in the circle represents a different type of online attention and the number in the centre is the Altmetric Attention Score. The score is calculated based on two main sources of online attention: social media and mainstream news media.