Hashtags were popularized during the San Diego fires in 2007 when @nateritter used the hashtag "#sandiegofire" to identify his updates related to the disaster. – Twitter Fan Wiki
Twitter was All So Simple
When Twitter co-founder, Jack Dorsey, (aka @jack) sent his first tweet it was pretty simple and straight forward.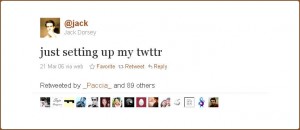 Furthermore, if anyone wanted to find his tweet, that was pretty simple too, because Jack's tweet was the very first tweet … ever!  So there wasn't much competition.  It didn't fall unbelievably far down everyone's home-feed in just a few heartbeats, and it wasn't lost among the barrage of tweets about last night's game, the news story of the day, or what all of your friends were having for dinner.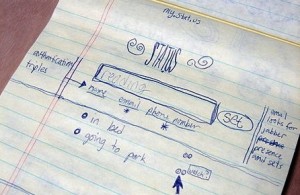 Even today, four and a half years after Jacks historic announcement, Twitter, as created by its founders, is really pretty simple … until you try to find tweets that are all talking about a common subject that interests you.  That's because Twitter has no built in method of categorizing all those tweets.  And when I say "ALL those tweets", keep in mind that Twitter went from roughly 400,000 tweets in the first quarter of 2007 to 4,000,000,000 (yes, that's billions) in the first quarter of 2010.  Nearly 45 million tweets per day!  And while recent figures suggest that this mercurial growth rate is leveling off, it is, and will be for a long time … a BIG number.
The Twitter Community Mobilizes
Some of the most interesting innovations on Twitter seem to be routinely generated by its users, and they recognized this lack of search ability in the platform early on.  Enter the hashtag.  That funny little "#" symbol placed in front of one or more keywords in a tweet so as to identify the subject(s) of the message.  With these categories now incorporated right in the tweet, users can filter their home-feed to just see tweets about particular subject matter.  If they search for "#baseball", only tweets whose subject is "baseball" will appear.
Healthcare on Twitter … Making the Simple Complex  :-/
Unfortunately, healthcare isn't as simple as baseball.  And to make matters worse, we all know how healthcare loves to use abbreviations, technical jargon, and even use different terminology that essentially all means the same thing.  Now lay on top of that the fact that Twitter hashtags are home-grown, without any rules, and without informing the rest of the healthcare community on Twitter what exactly your chosen hashtag means.  Take all these issues, stir them up in a pot and healthcare hashtags often become more like mishmash-tags.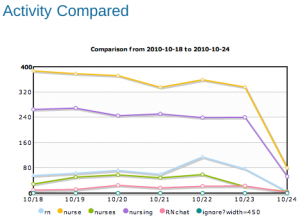 Since I started using Twitter I've felt that so many of us who wish to meet other people interested in healthcare and who wish to participate in the many healthcare related conversations have been kept apart because of what should be a common language … hashtags.  With that in mind, we at Fox ePractice have embarked upon an ambitious project.  One in which we are searching for the many Twitter hashtags that are in use that are specific to the field of healthcare, and to organize that data in some of the following ways …
Allow exploration by either hashtag or healthcare subject matter.
Show hashtags that are related to one another in the healthcare field.
Capture and list hashtags for healthcare conferences.
Demonstrate frequency of use of related hashtags so as to facilitate hashtag selection.
Identify most frequent users and most frequent @mentions with each hashtag so as to find the influencers to follow on your healthcare topic of choice.
Determine which healthcare hashtags overall are most popular at any given time.
To provide a live feed of conversations related to each hashtag so as to easily explore what's currently being shared on Twitter in your healthcare topic of choice.
To encourage visitors to vote on which hashtags are most useful in hopes of bringing multiple conversations together.  (example:  #pediatric, #pediatrics, #pediatrician, #pediatricians)
Time for the Healthcare Twitter Community to Mobilize and Organize
Our hope is that we can lower the barriers of entry, decrease the learning curve, and enhance the experience of new users.  But we'd also like to introduce experienced healthcare
Twitter users to a fresh look, to new information, and to new people who share your passions.
We're already working on future features based on some pre-release discussions with several well respected individuals in our Twitter healthcare community.  Establishing methods for more visitor input that can be shared by others is high on our list.  Also, while we've focused this initial release around the "business of healthcare", in an upcoming phase we hope to include a complete disease index in this hashtag listing so as to help facilitate patient exploration as well.
This project is a work in progress … and literally always will be.  It's a controlled database, not a wiki, because we want to assure that every hashtag on the list has been vetted, has a level of critical mass, and that its relationships are well thought out.  However, at the same time this is a "social project", one in which we're soliciting your input for the betterment of all.
So come step into the first official "Healthcare Hashtags Project" … take it for a spin, let us know what you think, and help us to build a more well connected healthcare community.
The Healthcare Hashtag Project