In this rapidly changing business environment, it has not been unusual to hear of healthcare executives smartly taking a step back from their big hairy audacious goals to revisit their innovation strategy.  Chances are, they are looking for solutions beyond market presence, and cross pollinating industry segments to tap new knowledge – in other words looking for social inputs to expand their innovation vision.  As an innovation is social enthusiast, social media is an excellent vehicle to identify strategic alliances and to generate ideas from both inside and outside company walls.
Whether you are seeking random or more specialized insight, begin by choosing an effective model. The Four Lens of Innovation, by Rowan Gibson is an excellent starting place to harness fresh views:
1. Challenging orthodoxies
Questioning deeply held dogmas inside companies and industries about what drives success.
2. Harnessing discontinuities
Focus on identifying changes underway in the external environment that your competitors have either underestimated or ignored.
3. Leveraging competencies and strategic assets
Stop looking at your company as a provider of specific products or services for specific markets, and start viewing it as a reservoir of competencies and assets that can be leveraged in different ways (or different contexts) to create new value.
4. Understand unarticulated needs
Learn to live inside the customer's skin, empathizing with unarticulated feelings and identifying unmet needs.
How Healthcare Social Media Can Leverage Innovation
To conduct a quick market scan for ideas, feedback, and opinions, Twitter is an excellent tool.  As I was writing this post, I asked of the Twitterverse, (specifically, #innochat) how social media networks can leverage innovation and within a few minutes had responses from both @VolcadoDePila and @OReillyKimberly that focused on customer experience and diversity of perspective.  Once you build a trusted following on Twitter, crowdsource a few ideas, or contribute to chats where participation is authentic and relevant.  If you prefer to pose questions to specific industry professionals, use LinkedIn where there is an excellent polling feature.
As healthcare executives revisit their innovation strategy, social or new media will play a pivotal role in collaboration, change, and communication across a company matrix and for the end users of services or products.  Utilizing social media to explore innovative business models says a great deal about adaptive capabilities but, more importantly, sets the ground work for sustainability!
---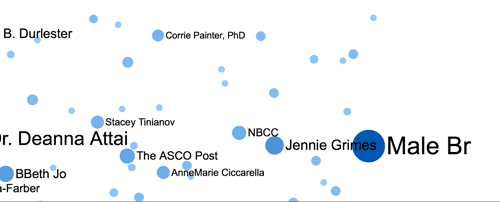 Symplur Signals promotes deep understanding of healthcare as seen by patients, doctors and other stakeholders with real-time access to insights from over a billion healthcare social media data points.
Learn how pharma, medical device companies, government and research institutions are using Symplur Signals.
---