We believe (and our customers agree) that tools and services purpose-built for healthcare extract greater value than generic tools. We have been well rewarded for staying focused.
Today, we are moving even closer to our customers and taking the next steps for even deeper focus. We are launching the first of several new products entirely centered on a single aspect of healthcare.
Together with many stakeholders in interventional cardiology, we have built an expert-curated collection of real-time insights from social media conversations covering all of Interventional Cardiology.
We're deeply grateful for the expert insights and feedback from:
Interventional Cardiologists
Patient
Hugo Campos, White House Champion of Change for Precision Medicine Initiative
Association
Medical Device
These diverse voices have helped us shape a product that solves and answers their needs and questions in a much deeper and focused way not possible before. Creating value for them is the only job this product is performing.
Our new product is an expert-curated collection of dashboards with each dashboard focused on a high-signal, high-value aspect of interventional cardiology. Every insight is touched by our AI/machine learning algorithms for higher signal-to-noise ratio and healthcare stakeholder filtering.
The curated collection includes these IC voices, procedures and diseases:
Interventional Cardiologists
Survivorship & Patients
Journalists
Societies and Associations
Scientific Journals
Media
Conferences
Diseases and Conditions (eg. Coronary Artery Disease, Cardiomyopathy, CTO, etc.)
Procedures and Treatments (eg. Radial First, Transcatheter Aortic Valve Implantation, Dual Antiplatelet Therapy, etc.)
…and more.
These dashboards help you to perform the job of monitoring, responding, planning, learning and finding opportunities whether you work in interventional cardiology as an advocacy organization, media and content, scientific publishing, provider, or medical device company.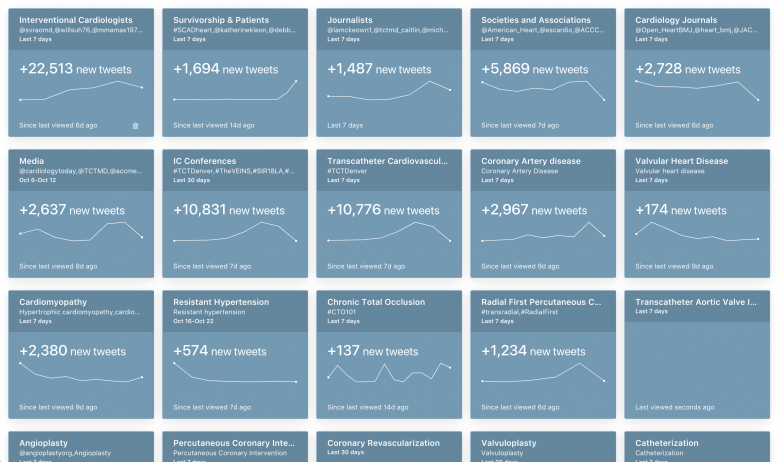 We're very excited about this new focus and to bring our abilities one level deeper into the world of healthcare social media. More areas of healthcare to come soon.
We deeply believe that expert human curation combined with AI/machine learning brings about the best solution possible.
If you are in interventional cardiology and want to learn more, please contact us for more information and access.