This is the time, this is place — The Healthcare industry  is finally realizing the potential advantages of a digital presence in the broader sense of their marketing or other strategic initiatives — but,  actionable, best practice guidance is needed!
We're going to lead the charge. We're going to connect the dots and simplify the process.
I am (
@hjluks
) a practicing Orthopedic Surgeon in NY and  current Board Member at the Mayo Clinic Center for Social Media.   I have had a deep digital presence for nearly 4 years and now nearly 20% of my practice's new patients come through a google search or social media related referral.   I have worked with Fortune 500 companies on their online endeavors as well as solo practitioners.   My personal experience and deep understanding of this space gives me a unique perspective in further enabling other healthcare providers and institutions.
Humans are innately social… and as an extension,  health is social… but healthcare is not social.  This is what drives my passion.  I entered the intersection of health care and social media (#hcsm) long before the pavement was dry —  with a goal to leverage technology, the internet, my ability to communicate, and my passion to create a health care system with a level playing field for all — Where access to information and data, as well as the ability to communicate and collaborate is as seamless and effortless as it is for people interacting with many other industries.
*Seasoned* voice in Social Media & Healthcare
As an early adopter of Twitter and other social platforms,  and due to my steadily increasing social stature in the healthcare space— I was recently named one of Twitter's Top Ten Doctors, and one of the "Eleven Faces to Follow in Healthcare and Social Media"
What others are saying….
Gerry Levin… Retired CEO, Time Warner
Howard has that rare combination of professional skill and medical proficiency plus a truly creative mind exploring and probing for solutions to change the nature of health care delivery and utilize all of the tools now rapidly derveloping in the tech space. He resides in the present but is setting the pace for a more profound future.
Bob Crimmins, Tech Star Adviser, Entreprenuer
Howard is a rare blend of sincere, conscientious physician, savvy entrepreneur, insightful advisor and social media maven. I've worked with Howard over the past few years in all of these capacities and all I can say is that if you ever have the opportunity to work with him, don't miss it.
---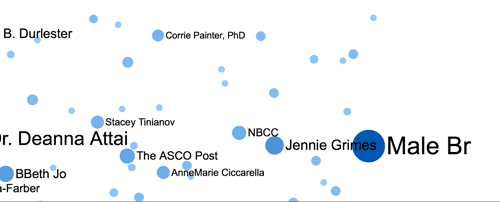 Symplur Signals promotes deep understanding of healthcare as seen by patients, doctors and other stakeholders with real-time access to insights from over a billion healthcare social media data points.
Learn how pharma, medical device companies, government and research institutions are using Symplur Signals.
---