Mayo Clinic's Center for Innovation (CFI), a multi-disciplinary group within a major academic medical center sees the value in divergent thinking and collaboration towards innovating healthcare solutions for the future.  CFI's most recent TweetChat, asked individuals to participate in a conversation surrounding the 'Patient of the Future.'
Using social platforms to host such discussions is in-line with one of CFI's core design thinking principles and goals – diffusion.
Exchanging ideas amongst individuals from various backgrounds and experiences lends itself to divergent thinking, which CFI hopes will ultimately lead to diffusing better & more sustainable healthcare solutions. Inviting individuals to the conversation and broadcasting their insights through a TweetChat creates a way to elevate a conversation –a pathway for ideas to be exchanged.
CFI is extending the invitation to the multi-disciplinary community within health care and social media, via another TweetChat.  In keeping with CFI's emphasis on transforming the experience and delivery of healthcare, the TweetChat will be focused on how to create a better future for the aging population, with healthy and independent living solutions.
Who?
@MayoInnovation will ask three questions posed by CFI's Healthy Aging and Independent Living (HAIL) Lab. Responses are invited to come from healthcare professionals and enthusiasts, who are interested in the topic of aging.
When / Where?
@MayoInnovation will host the '#MCCFI_HAIL' conversation on Wednesday July 11th, at 1PM (CDT), 11AM (PDT). All those interested in discussing #aging, #healthcare, #caregiving are invited…..
To join the conversation;
Authorize 'TweetChat' as an app on your Twitter
Go to TweetChat.com
Type '#MCCFI_HAIL' into the top field
Enter your question responses to @MayoInnovation ?'s, marked R1-3
Click 'Update' to submit your response & view others
Why?
@MayoInnovation is seeking to generate conversation around the topic of aging with the focus on how those who are aging can do so healthily and independently. The conversation will spur from three questions posed, asking for TweetChat audience members to share their insights.
The Questions:
Q1: How can 'independent living' be better defined and enabled?
Q2: How can the healthy choice be the easy choice for the aging population?
Q3: How can environments adapt to the needs of the user, as they age?
---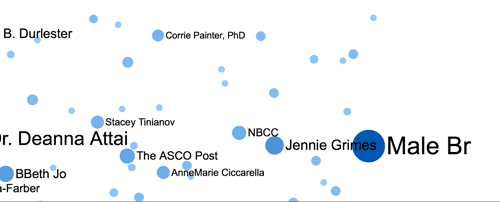 Symplur Signals promotes deep understanding of healthcare as seen by patients, doctors and other stakeholders with real-time access to insights from over a billion healthcare social media data points.
Learn how pharma, medical device companies, government and research institutions are using Symplur Signals.
---