A popular feature on the Healthcare Hashtag Project is the customizable healthcare analytics page. You select a time period, we give you analytics with participation metrics, influencer metrics, and some beautiful graphs. We've mostly seen it being used for healthcare tweet chats and healthcare conferences. It's just a simple way to quickly see what an impact an event had, and who was involved. Great for use in proposals and reports. We're now adding some new features to this analytics page.
To get to the analytics page, go first to your favorite hashtag. Then click the "Get Analytics" button. Example.
Healthcare Analytics: Tweet Reach or Impressions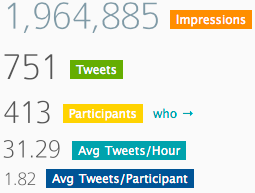 People love metrics and the best use of metrics is to compare them to past periods or other competing/comparable metrics. For a certain time period, let's say a healthcare tweet chat, we have in the past provided metrics for how many tweets were produced and how many people were involved. We're now taking it one step further with a metric for how far and wide your messages have reached. Total Impressions.
How is the Impression Metric Computed?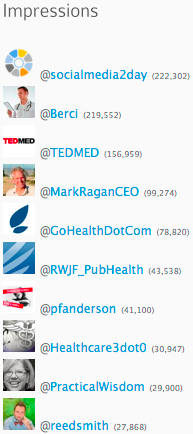 "Impressions" is a metric for how many impressions a healthcare hashtag has made in users' tweet streams. Symplur computes total impressions by taking the number of tweets per participant and multiplying it with the number of followers that participant currently has. This is done for all participants in this time period and then finally the numbers are added up.
Top 10 Influencers by Impressions
Impressions, as you can see, is a metric that can quickly become a very large number. An individual with a very large following can have a large impact on this metric with just a few tweets. But that is also the point of this metric – another way to slice the data. We've created a top 10 list of the individuals who created the most impressions. From our testing, this list will vary greatly from the two other top 10 lists we have (top mentions, and top tweets), in other words, it will give you another way to look at the data.
Tweet Activity Graph for any Time Period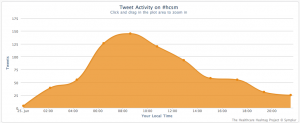 We've also added another graph on the healthcare analytics page. Tweet volume across the whole period. And since you can decide where the period will start and stop, this graph can show data for a week, 24 hours, 1 hour etc. It will measure 10 time points in your periods on the x-axis and will default to your local time zone.
Custom Healthcare Analytics – More Ways to Slice the Data
Creating publicly available tools for displaying the data in our database is really fun and rewarding. But there is only so much one can do with tools that need to be generic. The really interesting answers are found when one digs deep into the data with custom problem solving tools and algorithms. That's where the true potential for valuable  healthcare analytics lies. So if you have research or marketing questions you want answers to, let us know. We literally have millions of healthcare tweets with thousands of different variables in this huge relational database.
All the Participants
Still on the analytics page is the beautiful collage of profile images of all the participants. Great for slides!
Thanks for all your support, especially to the organizations and individuals who contribute to this project. We will keep on moving forward with new features.