In its initial stage, healthcare social media was perceived by some as "free advertising". That was a grave misunderstanding.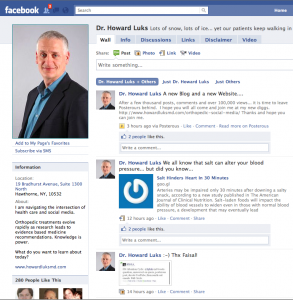 Such a perception might have come about because there were no direct cash outlays for using this communication channel in healthcare organizations. Brochures, print, TV, and phone communication all have a usage price tag on them, but social media has a different kind price tag–time, creativity, openness, and a love for the services you provide.
In short, there is nothing free in healthcare social media. As with everything else in life, a successful healthcare social media presence takes work. But that being said, following some basic principles will get you going and keep you on track. As an example, below are some best practices for management of your medical practice Facebook Page …
1 –  Keep your Healthcare Facebook Page alive
At least once a week, share an article on your Facebook page. You do not need to be the one creating this content every week; share a 3rd party's content. Share a story that relates to your healthcare services, would be interesting for your followers, or is really meaningful to you. Comment on it.
2 – Engage your patients
Do not treat Facebook as a broadcast medium. Social media was created because people demanded to have a voice. Encourage and facilitate interaction by posting questions, polls, and comments on follower's activity on your wall. Make it clear to all visitors that there is a real human being running your page.
3 – Be transparent with your healthcare community
Allow followers to comment on your wall, posts and photos. Do not lock down the wall, and do not set the default view to only your posts. You want to foster a community; let them see each others' activity.
4 – Keep curation at a minimum – HIPAA
The only posts or comments by followers you should delete are those who violate HIPAA rules or are inflammatory. Negative feedback is very rare, but you should prepare for it in advance so that your immediate response is not the delete button. How you deal with negative feedback will show your followers how mature your organization really is.
5 – A picture says a thousand words
People love photos. Don't just post articles. Upload a photo or a video clip to break the stream of text. Visuals are a powerful tool that create emotional connections between your followers and your healthcare organization. Use them!
Follow these best practices for your healthcare Facebook Page. They are easy to implement and require no technical know-how, Facebook App integration or custom programming.