We are so fond of one another because our ailments are the same.
The number of healthcare conversations taking place on Twitter is truly staggering.  And, as many of you are aware, we've made an attempt to organize these conversations via the
Healthcare Hashtag Project
.  Our initial launch of this ever growing list of health related hashtags for Twitter was focused on the "business of healthcare".  But we announced early on that it was our intent to add a section that would include
disease hashtags
to the mix.  However, over the ensuing months a number of individuals began beating us to the punch, submitting disease related hashtags that we readily accepted (i.e.,
#autism
,
#diabetes
,
#rheum
, and more).
Patients on Twitter use disease hashtags
Well, we're finally catching up with a progressive community of patients who are remarkably active in healthcare social media.
Today I'm pleased to announce the launch of a new section on our site that's dedicated to Twitter hashtags related to diseases, conditions, and other personal health related topics.  Once again, our goal is to lower the barrier to entry for physicians, hospitals, and other healthcare professionals who are interested in integrating healthcare social media into their respective businesses.  And what better way to do that than to invite the patient, caregiver, and healthcare provider communities to collectively join one another in these active discussions where each has an interest, concern, and a contribution to make.
A curated list of Twitter Hashtags for diseases, conditions, and related discussions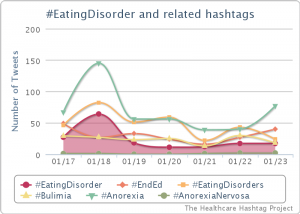 To develop this list beyond those related hashtags already submitted to us, we used disease lists from the Centers for Disease Control (CDC), and other reputable sources.  From there we began conducting manual Twitter searches using the diseases listed.  Then, visually scanning the tweets returned, we looked for all the hashtags being used to reference those subjects.  We screened for critical mass in the conversations, excessive use of the hashtags in a non-healthcare context, and those health hashtags that are overwhelmed with spam.  Lastly, we loosely organized the list based on the related categories for these respective diseases found in the ICD-9-CM.  Having sorted all that out, we're excited to present an inaugural set of 155 hashtags that are dedicated to meaningful discussions related to over 100 various diseases, conditions and related topics centered on the health concerns of patients in our Twitter community.
However, there were two considerable obstacles in developing this list in a manner that allowed it to be a useful tool for our healthcare community.  And these obstacles may still present some challenges for serious users.
I'm talking about spam and vulgarity.  Read on …
Healthcare Spam on Twitter … #AnnoyingTheConsumer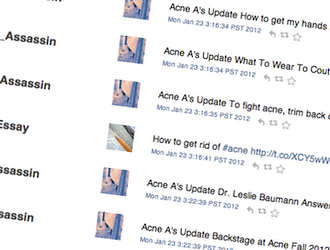 By spam I'm referring to some health conditions, and their related hashtags, as being overwhelmed on Twitter by the extremely excessive tweeting of products or services for sale to address the related condition.  This is an unfortunate example of organizations who may, or may not, have something of value to offer to those interested in the health topic at hand … but completely miss the the "social aspect" of social media.  Their boorish, even offensive broadcasting drowns out meaningful healthcare conversations … and is actually the "anti-conversation" that pervades a segment of health conditions on Twitter.
Misguided and Offensive Use of Health Hashtags … #Sad
Sadly, perhaps even more troubling than the spam issue discussed above, is the sometimes vulgar use of these disease hashtags.  I'm referring to those who use these conditions as a means of insulting people, putting them down, and belittling them.  This is a sad commentary on a segment of our global society.  I bring this up because I want to warn you that certain hashtags, even though we've screened much of this out, are going to find some tweets from the uninformed, crass, and immature members of Twitter at large.
Take Control of health related hashtags on Twitter!
To the issues of spam and vulgarity, I say, "Take control!"  Some people are comfortable directly challenging and confronting those Twitter users who are interfering with the real conversations.  And I personally commend those who do.  However, I'd like to invite our global healthcare community to chime in on possible methods to collectively clear the air of these obstacles.
So, in keeping the Healthcare Hashtag Project social … what are your thoughts?  Should we identify and list the spammers, chastise the offensive, or just ignore it?  Something else?
I'm seriously interested in your comments on this.
This is a Social Project … so contribute, share, and make it grow
The Healthcare Hashtag Project is once again relying on the Twitter community to add new hashtags to the list.  However, as always, we curate these hashtags.  So this is a place to register those conversations that are already taking place.  And please understand that we vet every submission to be sure that it's appropriate for inclusion, because we want to keep this list clear of stagnant, spam-laden, or multi-topic hashtags.  We do this for the good of everyone.
With all that said … please come step into the first official list of "Disease, Conditions, and Related Disorders Twitter Hashtags".  And, just like with our initial launch of this project, we invite you to … "take it for a spin, let us know what you think, and to help us build a more well connected healthcare community."
Disease, Conditions, and Related Disorders Twitter Hashtags