We had a few preconceived notions when we decided to study doctor and patient advocate Twitter engagement during the American Society of Clinical Oncology (ASCO) Annual Meetings over the past five years. We expected growth from physicians and robust engagement from patient advocates, however, the results were not quite what we anticipated. Below we share data and offer our insights as well as our attempt to curate the key themes from the remarkable response we received when announcing results for patient advocates.
Doctors Way Up
This year's ASCO conference saw a dramatic surge in the number of doctors actively participating in public social media conversations. After three years of gradually increasing engagement, 2019's growth shot up again at 41%. This data is from the Healthcare Social Graph® which has millions of publicly self-identified healthcare stakeholders.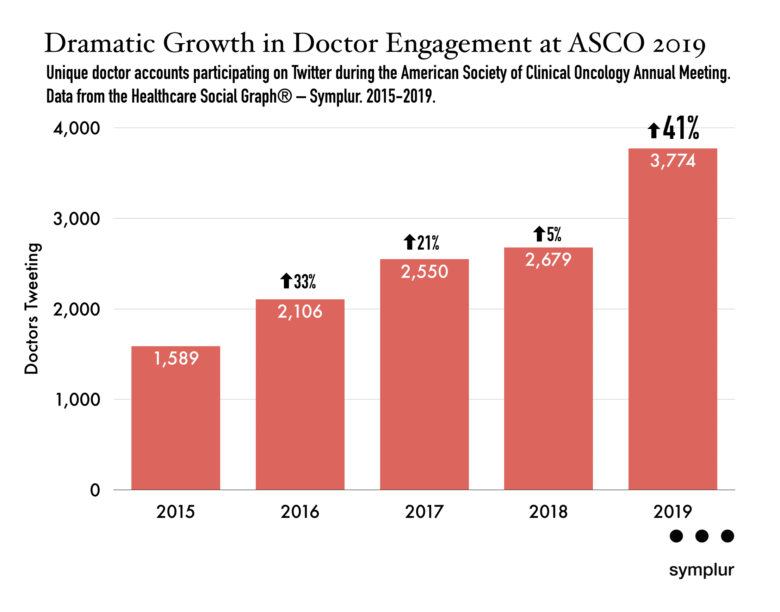 Patient Advocates and Advocate Exhibitors Up — in Chicago
ASCO provides Patient Advocate Programs at the Annual Meeting, and according to their office, the estimated number of patient advocates who attended the past five ASCO Annual Meetings at McCormick Place has been rising steadily. Note that ASCO's numbers below include all registered advocates who attended each meeting combined with advocate exhibitors. We were unable to get a number for registered advocates alone.
"2015: 350 patient advocates

2016: 400 patient advocates

2017: 460 patient advocates

2018: 500 patient advocates

2019: Nearly 600 patient advocates"
Patient Advocates Down — on Twitter
As mentioned earlier, our Healthcare Social Graph® tracks patient advocates separately from advocacy organizations and/or advocate exhibitors, and our data in this post relates only to individuals who self-disclose in their Twitter bios as cancer patients/advocates/survivors.
Disappointingly, we don't find the same success story when analyzing the data for these voices. For the past two years, the number of patient advocates participating in the conversations from ASCO via Twitter has been declining (see line graph, left y-axis). Wanting to further explore this, we also mapped the patient advocates' conversation size (see column graph, right y-axis) and found the number of tweets from patient advocates is down 43% since the peak of 2016. That is in stark contrast to the number of tweets from doctors which reached an all time high in 2019.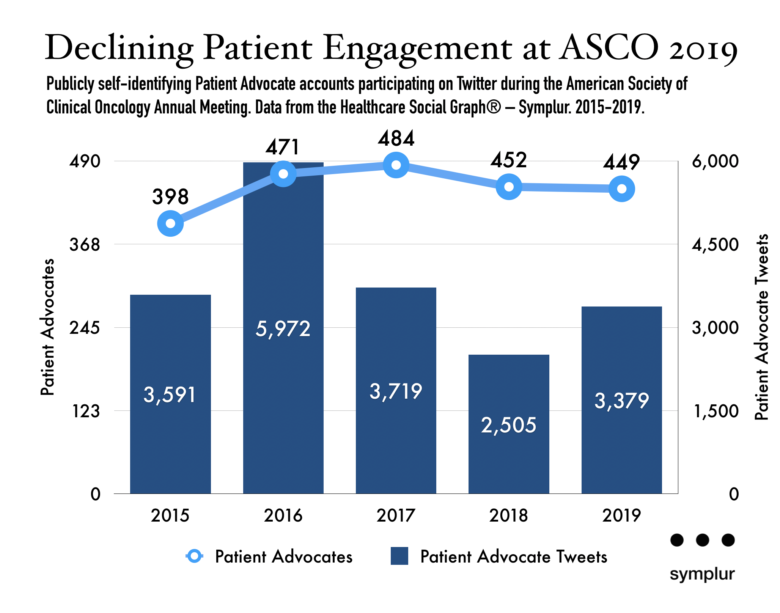 Share of Voice: Patient Advocates in the Top 100 and Top 1,000
While total numbers for patient advocates and their tweet volume are in decline, it could still be that their influence and share of voice remains strong. To find out, we looked at who is receiving the most attention and engagement at the conference. First, we analyzed the top 100 influencers at ASCO determined by SymplurRank and then counted the number of patient advocates found for each year (dark blue).
These influencer lists using the SymplurRank algorithm accomplish two important things: they reveal who is perceived as "influential" by the other participants, and they indirectly report on whose voice was given a platform to be heard.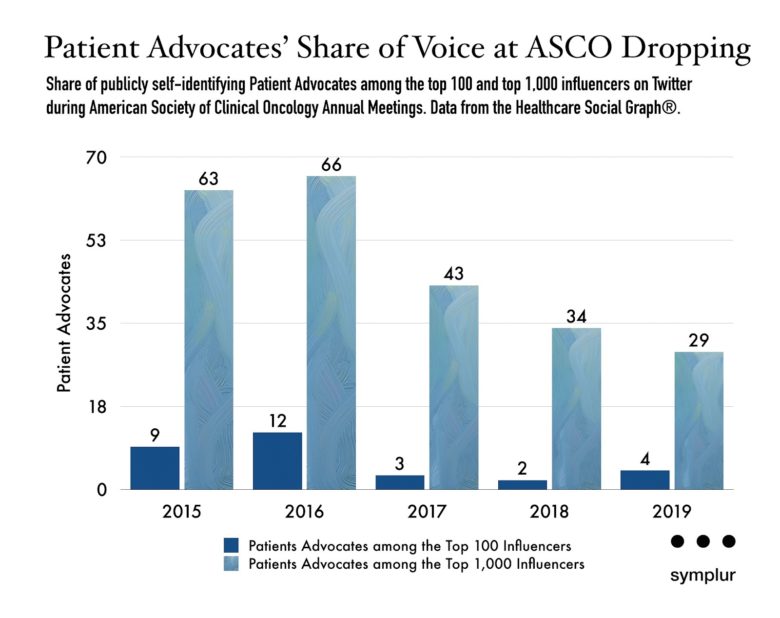 Looking at the graph again, keep in mind that "Top X" lists have zero-sum dynamics: any new entrant will push out an incumbent. For 2019, we wondered whether, given the surge in the number of doctors tweeting, the strong patient voices had perhaps just slipped out of the Top 100. We extended our analysis to the top 1,000 influencers by SymplurRank (light blue) and found a consistent decline of the patient advocate share of voice, which is now at just half of what it was in 2016 (the peak year for patient advocates, with 12 in the top 100 influencers).

One Graph, Two Trends
The two divergent trends are clearly seen in the graph below. On the one hand we have an incredibly positive trend in the growth of doctor engagement, while, disturbingly, the number of patient advocate voices is in decline.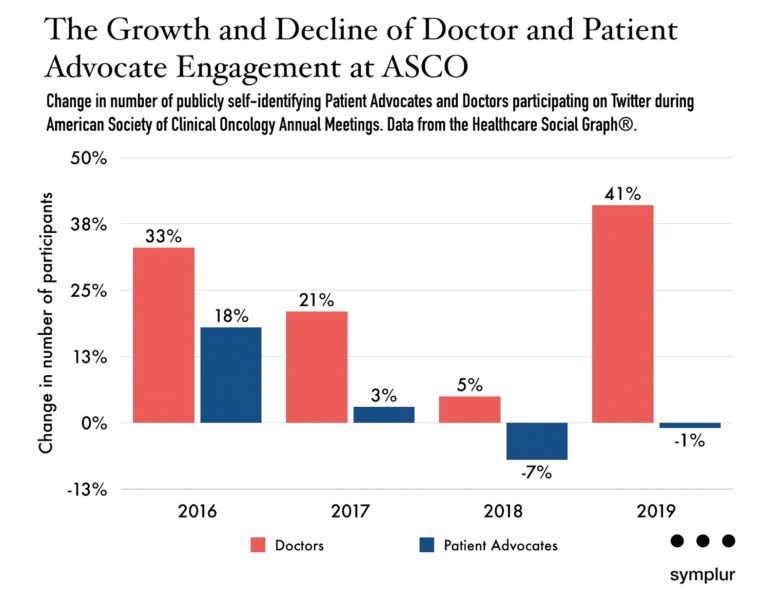 Why the Dramatic Rise in Doctor Engagement?
The steady rise and then the 2019 spike in physician engagement at ASCO immediately brought to mind Everett Rogers' Diffusion of Innovations, and the factors that help accelerate an innovation's adoption.
Institutional Support
In this case it looks like we've reached critical mass in at least one regard: institutional support, which provides a sense of normalcy and safety for doctors who may still have doubts about the legitimacy of using social media professionally. You know Twitter "is a thing" when ASCO promotes Featured Voices to follow…..
… and launches a social media selfie scavenger hunt (does aiding and abetting narcissism really help, though?).
In Their Own Words — Confirmation
Many of our ideas about the reasons for the rise were confirmed via direct message and emails we received from doctors, excerpted here:
"There was a push among women oncologists to get more involved on Twitter."

"Results of multi-year effort from individual doctor champions, NCI, ASCO, Mayo Clinic, MD Anderson, SWOG, etc."

"I believe there is finally a critical mass of good content, healthy engagement, and professional acceptability. We've finally hit the steep part of the curve."

"I also think a larger percentage of younger oncologists is emerging with social media skills, in lung cancer the growth has mostly been among the first-5-years out of fellowship group IMO."

"Our cancer institute had a concerted effort to convince docs attending the Annual Meeting to be active on Twitter."
Strategic Community Building
We don't think it's a huge stretch, especially given the Diffusion framework, to imagine that institutions such as ASCO would come to embrace this "innovation" that is social media without the labor of opinion leaders who paved the way to its acceptance. In a slight, but illustrative diversion, we recently noticed this instructive thread from Jerad Gardner, MD, on his approach to community building (our term) on Twitter in the field of pathology (see Pathology Tag Ontology).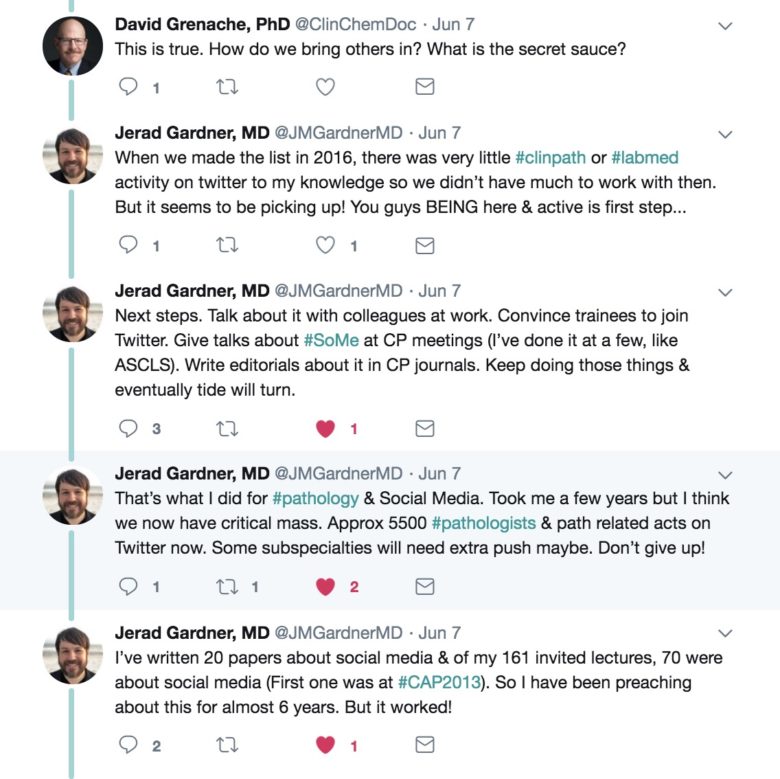 And, to the point Gardner makes about writing papers, a scan of Symplur's Healthcare Social Media Research page gives a sense of the Medicine-wide interest in and adoption of social media, via the number of published journal articles.
Why the Decline in Patient Advocate Engagement on Twitter?
We've thought a lot about the decline in ASCO patient advocate Twitter engagement since we tweeted the graph on June 7th. The tweet has garnered a — to us, mind-boggling — record 1,254 replies, quote tweets and retweets to date.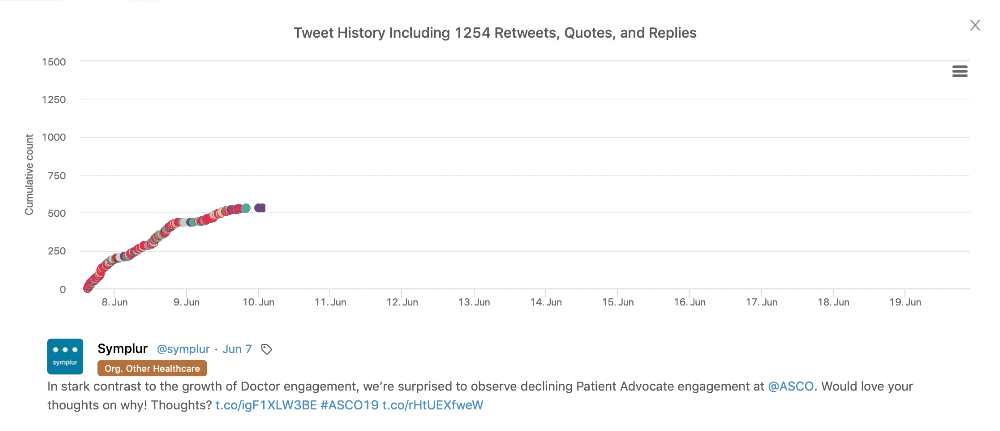 Following are our insights and attempt to curate some of the key themes set out in the responses.
Patients Were the Innovators and Early Adopters
Individual patient advocates were the innovators in and early adopters of social media for healthcare. The #HCSM chat, created by Dana Lewis, was in her words, "the first international healthcare hashtag chat. It was the community that many learned about Twitter chats from; and (…) that led to the creation of many other vibrant healthcare hashtag communities (#bcsm, #DSMA, to name a couple)." The chat had achieved such a level of maturity over time that it was phased out in early 2018.
#BCSM (Breast Cancer Social Media) was the first cancer hashtag chat and community, co-founded in 2011 by two patient advocates, Alicia Staley and the late Jody Schoger, and the blueprint for the slew of others that followed. It continues to flourish as a weekly chat, and it's no surprise that breast cancer advocates adept at Twitter have been a constant in the Top 100 over the past 5 years of ASCO Twitter engagement.
Patient Advocates — Decentralized, Organic Community Builders
Unlike doctors, individual patient advocates are a decentralized, hodgepodge group without overarching organizations or institutional support. Advocates have built and nurtured communities organically, and found ways (live tweeting, tweet chats, tweetups, replies, mentions, quote tweets, back-channeling via direct messages…) to build cross-functional collaborative relationships with doctors, researchers, and the full range of cancer stakeholders.
Drowned Out and Ignored?
Now that doctors — who in general, benefit from larger numbers, professional incentives, better health, finances and more — have achieved critical mass in their use of Twitter at conferences like ASCO, it is perhaps no surprise that patient advocates seem to have been drowned out of the conversations. Unfortunately, the very people who pioneered the use of Twitter in healthcare and who were the focus of ASCO 2019's theme Caring for Every Patient, Learning From Every Patient, are also being ignored in areas where they could have been given a voice. Patient advocates were not on the official "Featured Voices" list, nor were they acknowledged in an informal compilation of "best tweeters to follow."
Doctors Tweeting Among Themselves?
Matthew Katz, MD mentioned his observation of "clinicians and researchers focused more on networking (…) rather than listening (and) patient and public engagement," earning this response:
Couldn't agree more. Mid-asco, I thought… wait, what are we doing? I joined twitter for professional reasons. I'm personal on fb & insta. I fear our pts may view our community as a group that pats each other on the back & vies to be "top 10." Ps @subatomicdoc, you're missed!

— Ashley Love Sumrall, MD, FACP (@AshleySumrallMD) June 8, 2019
Meeting "Just for Clinicians?"
As mentioned earlier in this post, ASCO does offer patient advocate programs. However, there is still a feeling that, as Corrie Painter, PhD, patient advocate, Associate Director at the Broad Institute and Count Me In, and consistent member of the Top 100 ASCO influencers tweeted, "The meeting is not intended for advocates, we are a 'secondary endpoint' IMO."
Costs of Advocacy
Just one week before we released the ASCO data, we had published this post about the multifaceted costs of advocacy. The topic hit a nerve, continues to elicit rich and intense discussion, and is clearly a factor when it comes to advocates being able to physically attend conferences.
Yes, many tweet remotely. But the big reason patients do NOT go to ASCO is cost. Lost income & medical bills make it hard. We don't have institution or orgs that pay for us to go. I would not have been able to go this year if @CEC_Onc didn't sponsor me. #StruggleIsReal #LCSM

— Jill (@jillfeldman4) June 7, 2019
ASCO is crazy expensive, from registration fee, to hotel, to airfare, to food. We not only work for free (our expertise as patients is a commodity) but we have to pay out of pocket. Many patients don't work for nor are supported by advocacy organizations. @ASCO #ASCO19

— Dr. Kelly Shanahan (@stage4kelly) June 8, 2019
The 2016 Spike
In 2016, the number of patient advocate tweets jumped by 66% over the previous year. 2016 was also the year with 12 (the most) patient advocates in the Top 100. Of those 12 powerhouse advocates with huge reach, five are hosts of tweetchats in their communities: Alicia Staley (breast cancer), Janet Freeman-Daily (lung cancer), Dee Sparacio (gyn cancers), Georgia Hurst (Lynch Syndrome and hereditary cancers), and Cindy Chmielewski (multiple myeloma).
Since then, two of the 12 have died, both of Metastatic Breast Cancer: Beth Caldwell, who co-founded MetUP, and BBeth Jo; one (Janet Freeman-Daily) specifically reduced her twitter participation in 2017 (yet still was one of the only three advocates to grace the Top 100 by SymplurRank for ASCO 2017) and did not attend in 2018 or 2019.
Cyclical Nature of Social Media Advocacy
Alicia Staley made a seminal point, which was later echoed by Hugo Campos.
i've been seeing/sensing (but haven't proven via numbers…yet) a very cyclical nature for advocacy via social – when some advocates pass away (@jodyms, @whymommy, @ccchronicles, @regrounding, @AdamsLisa, @JackWhelan, @CultPerfectMoms xoxo) void takes time to fill #bcsm #asco19

— Alicia C. Staley (@stales) June 7, 2019
Advocacy: Not Just on Twitter
Dee Sparacio's comment was a reminder that not all advocates are on Twitter.
I wonder how advocates disseminate info they learn – some may Tweet and blog like I do but some may share with their support groups(in person or live),post 2 FB,write articles for a cancer center or awareness group. Maybe @ASCO can do a survey of advocates who attended.

— Dee Sparacio (@womenofteal) June 9, 2019
It also shed light on other ways advocates apply what they learn:
Some of us use the information in our role as consumer reviewers for various cancer research funding agencies and charities.

— Sandra Spivey (@SpiveySandra) June 9, 2019
Value, Reach, and Impact
It was interesting to see the value of conferences for advocacy questioned:
I think the face-to-face opportunities with researchers, oncologists (or other clinicians at non-cancer conferences, and advocates from other disease types is invaluable. More happens over a cup of coffee or a glass of wine than in the formal sessions

— Dr. Kelly Shanahan (@stage4kelly) June 15, 2019
Confs in tandem w/hashtag communities are still an incredibly powerful tool, as like Kelly said, they provide these IRL opportunities to connect, meet, & also cement relationships btwn stakeholders. Many of whom would never perhaps have known of each other without twitter. #bcsm

— Liza Bernstein (@itsthebunk) June 16, 2019
And, indeed, as Stacey Tinianov — a repeat member of the Top 100 ASCO influencers — tweeted: "While fewer tweets & fewer self-identified advocates at #ASCO19 the reach of those participating may actually be just as impactful. Quality of engagement vs. purely quantity."
Allies are Crucial to Progress
While there has already been progress…
My 1st ASCO was 2012. There were zero patient speakers. This year there were multiple patient speakers myself included. There is progress but it is so expensive to attend- not reg but airfare/ hotel . I would not have been able 2 speak if I didn't have support from my cancer cntr

— Dee Sparacio (@womenofteal) June 8, 2019
… doctors play a powerful role in drawing attention to and amplifying the voices of and issues raised by patient advocates. That was seen, in relation to this here, here, and here:
I value you and all advocates. I'm sorry that advocates have not been welcomed and included as they should have been. This will change!

— Tatiana Prowell, MD (@tmprowell) June 7, 2019
We are encouraged by the overwhelming response to the data and the vigorous and productive conversations that are ongoing. Since we published that tweet on June 7th, we have already begun to see small but tangible examples of progress in relation to the patient voice and conferences: Liza Bernstein and Julia Maues will be on a panel at the upcoming National Coalition for Cancer Survivorship's CPAT Symposium to raise awareness to a larger audience about engaging on Twitter as advocates. And, thanks to in extremis amplification and allyship from Drs Nicole Kuderer and Maryam Lustberg, Stacey Tinianov and Dr. Kelly Shanahan will be on a panel at the upcoming Multinational Association of Supportive Care in Cancer Annual Meeting.
We are looking forward to what the future will bring!
---
Data for this analysis can be found in the Healthcare Social Graph® here: