Yesterday, February 21, 2012, happened to be a historic day in healthcare social media. The participants at the HIMSS12 conference (Healthcare Information and Management Systems Conference 2012) in Las Vegas tweeted the hashtag #himss12 a total of 6,438 times.
I don't know about you, but if you had your Twitter client up and running yesterday like I had, you simply couldn't avoid the steady stream of tweets from healthcare tweeps at the conference. We all experience increased twitter activity whenever a conference is happening, but yesterday's impact on my stream felt especially big. So, today I took some time to analyze our database and found some interesting facts.
A World Record for Healthcare Conferences
6,438 tweets on a single day from a healthcare conference is a World Record!
We have almost 300 healthcare conference hashtags in our database from around the world. That's clearly not all conferences, but the number represents those conferences with a good social media presence. I ran some comparative analytics by crawling the database looking for peak tweet volume dates for each conference and then ranked them accordingly. The results are decisive. #himss12 beat the number two (#mh11) by over 1000 tweets or nearly 20%! A clear record.
Top 20 Healthcare Conferences by Tweet Volume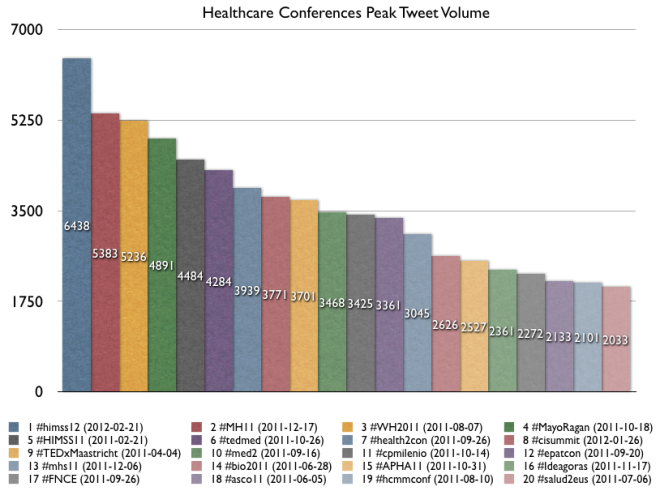 Selected stats from the record day: #himss12 at 02/21/2012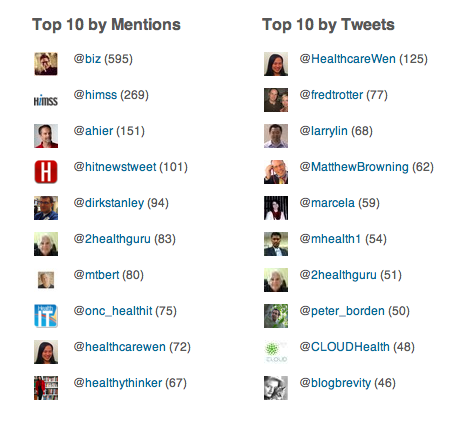 6,438 Number of Tweets
1,859 Number of Participants
268.25 Average Tweets per Hour
3.46 Average Tweets per Participant
---
Top 10 Healthcare Conferences in Tweet Volume







45% Increase Compared to Last Year
There's been a staggering growth of social media usage within the healthcare industry over the last year. Not only are the number of healthcare conferences with a social media presence growing, but the volume of tweets from these conferences are also increasing. Just look at last year's peak date for the same conference – #himss11 maxed out at 4,484 tweets. Although it's a huge peak earning the 5th place, it's almost 2,000 tweets less than this year. In other words, this year's peak is about 45% larger compared to last year's! Congrats HIMSS!
Are you a healthcare conference organizer? Avoid confusion and fragmentation, register you conference hashtag at the earliest opportunity.
Congrats to the record setters!