My medical group is already using Google Adwords, so why would we benefit from advertising on Facebook?

The major advantage of advertising to prospective patients on a social networking site, like Facebook, is that you can make use of both demographic and psychographic information when targeting your patients.
Example of Google Adwords in a medical group
To understand this shift in online healthcare marketing and the power Facebook Ads brings, we need to look at the current Google Adwords situation. We set up medical Google Adwords campaigns for all our medical group clients as part of our Online Presence package. This service allows these healthcare providers to promote their services to prospective patients. For example, a person located in our client's city who is searching on Google for "allergy shots" will see our client's allergy shot ad as part of the search results. It's great, but not optimal.
Healthcare Social Media Marketing vs Search Engine Marketing
Where Google Adwords falls short is in targeting. There is simply no way to show search engine ads only for women, or only for people aged 30-35. Targeting based on these demographics can be very valuable, not to mention the cost savings. If you, for example, had a general service applicable to both genders, but you only wanted to promote it towards men, half of your search engine marketing budget would be wasted since Google does not offer such demographic filtering.
Social Media Marketing on Facebook offers demographic targeting and more.
The Power of Psychographic Healthcare Marketing

Facebook allows you to target ads based on demographics, but why stop at demographics like age, gender, and location when you can target your message using psychographics? Psychographics are attributes relating to interests, lifestyle, personality and values. Facebook and other social networks are sitting on an information gold mine for healthcare advertisers. Psychographics is nothing new; marketers have been targeting campaigns based on these variables for a long time. However, the problem has always been how to accurately find these specific population segments. Facebook provides tremendous psychographics accuracy at an incredible cost effective price.
Here is an example of a Facebook Ad from a medical practice: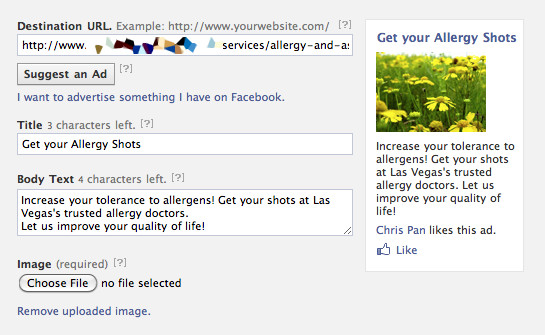 The Facebook Ad design for a simple Allergy Shots service.
---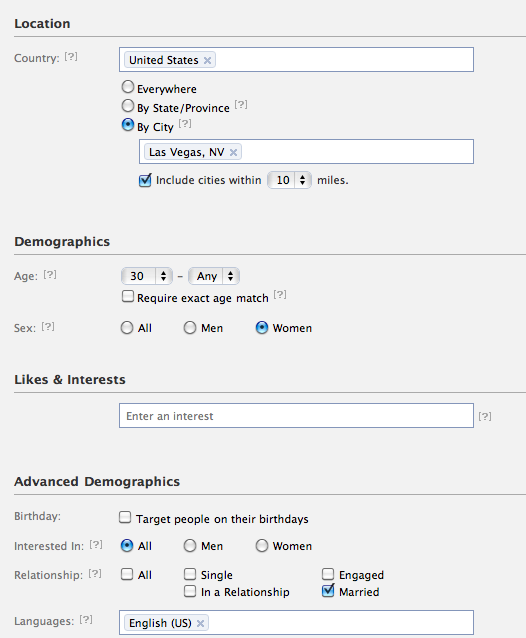 Targeting the prospective patients. Since we know women are the main healthcare decision makers in the family, we are targeting women over 30 who are married.
---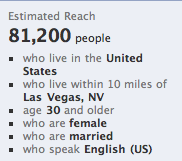 Estimated Reach is 81,200 people.
---

Now let's imagine the client has a"special allergy shot potion" that is (for whatever reason) well suited for hikers. Simply add "hiking" as an interest and you will discover the power of Facebook Ads and psychographics to accurately find your your specific patient segment.
---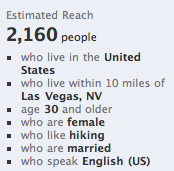 Adding "hiking" brings Estimated Reach down to 2,160 people. It's easy to imagine how much money can be saved with such accurate campaign targeting for your medical group.
---
What are the consequences for your healthcare practice?
Being able to custom-fit the ad itself to specific patient segments based on psychographic variables not only makes them much more effective (more clicks), but also more efficient (lower cost). With "women over 55" as the fastest growing user segment on Facebook, the healthcare decision-makers in the baby boomer families are now strongly represented on Facebook.
If one or more of your healthcare services lends itself to target a specific audience based on some of the variables I mentioned above, you ought to start testing Facebook Ads as a viable marketing channel for your practice today. Advanced tracking and analytics will provide all the evidence you need to evaluate its impressive performance.
Need help to create, monitor and optimize your online patient marketing activities? With over two decades in the healthcare industry, we know what works.