The internet has revolutionized every corner of the publishing world. Every corner, that is, except for medical journals, says Dr. Ruth Carlos, deputy editor of the Journal of the American College of Radiology.
Journals like hers are full of cutting edge information, Dr. Carlos says, but are often inaccessible to the patients who could benefit most from them. How, she wonders, can medical journals harness social media to reach people?
That curiosity led Dr. Carlos and a team of other researchers — Edith Mitchell, Angelique Valladares, C. Matthew Hawkins, Marisol Murphy-Ballanty, Jennifer Dunne, Bich-May Nguyen– to produce the winning project for the most recent Stanford Medicine X Symplur Everyone Included Research Challenge.
Their winning project examined how reaching out directly to patients on Twitter could improve patient participation in the journal's online community. As a result of that outreach, researchers found that patients had more meaningful conversations with radiologists and other providers about diagnosis and care.
"a journal that doesn't engage patients runs the risk of being irrelevant"
"For me, the take home message is that a journal that doesn't engage patients runs the risk of being irrelevant," she said.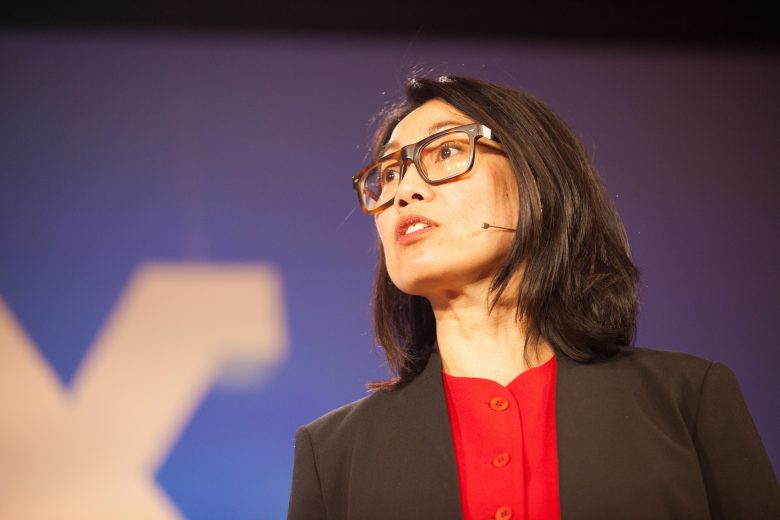 That's precisely the thinking Symplur hopes to encourage, said Audun Utengen, who cofounded the Los Angeles-based healthcare social media analytics company six years ago. For the Research Challenge, the company offers researchers access to its datasets via Symplur Signals, which feature extensive health data collected from public Twitter conversations.
"Like many other people, we feel that our industry — health care– is kind of broken," Utengen said. "Our point of view of how to fix it is to listen to this vastly untapped resource called patients."
"we think research is best when everyone is included"
Dr. Larry Chu, Executive Director of Medicine X and Professor of Anesthesiology at Stanford's Medical School, said the research challenge emerged from a desire to foster collaboration among teams that include patients, caregivers, designers and technologists. The hope, he said, was "to challenge the idea that research is a pursuit meant for ivory towers." "We think research is best when everyone is included," he said
The prize comes with further access to the database. So Carlos and her colleagues are now looking to Twitter for evidence of disparities in access to medical trials. She says she is very grateful to Symplur not just for the access to the data, but for their hands-on support in using it.
Five other teams were selected as finalists. They are:
Dr Alexandra Winter, an equine surgeon, researcher and journal editor from Illinois and her team– ​Eva May, Nicola Di Girolamo, James Rudd, Jenni Beattie, and Jude-Marie Alexis – evaluated whether social media strategies utilized in conventional marketing to drive engagement might be adapted to the healthcare space to increase awareness of sepsis, a major public health problem.
Dr. Maggie Hardy, a biochemist from Queensland, Australia and her team—​Robert Trevino, Shana Sprinkle, Jon Olson and Carla Paterson — examined the affect of allowing patients to interact with a panel of experts via TweetChat.
Sean Erreger, a clinical social worker in New York, and his team– ​Amelia Roberts, Milan Balakrishnan, Maha Yaqoob–evaluated whether Zero Suicide efforts online were reaching those in the healthcare field.
Dr. Kyle Hoedebecke, a family physician in North Carolina, and his team– Lindsey Beaman, Sanam Shah, Joy Mugambi, Kim Yu, Marwa Mohasseb, Irini Gergianaki, Cheyanne Vetter, Muna Chowdhury, Emily Couvillon, Sherwin Gallado, Giovanni Rinaldi– examined whether tweets, by virtue of their very short nature, are actually easier for patients to understand than traditional medical writing.
Dr. Minas Chrysopoulo, a plastic surgeon in Texas and — Terri Coutee, Fawn Hogan, Daniel Liu, Camilla Stewart, Oliver Branford, Heather Furnas, David Kahn, Karen Horton, Kristin Coppens– examined whether using medical hashtags could help medical institutions improve patient education.
---
The 2017 Medicine X | Symplur Everyone Included™ Research Challenge is back! Applications are now open until March 1, 2017. Apply today.