You're now free to take a sneak peek at how Symplur Signals visualizes thousands of different healthcare conversations.
Simply log in here with your free Symplur Account (or create a new one): https://dashboard.symplur.com/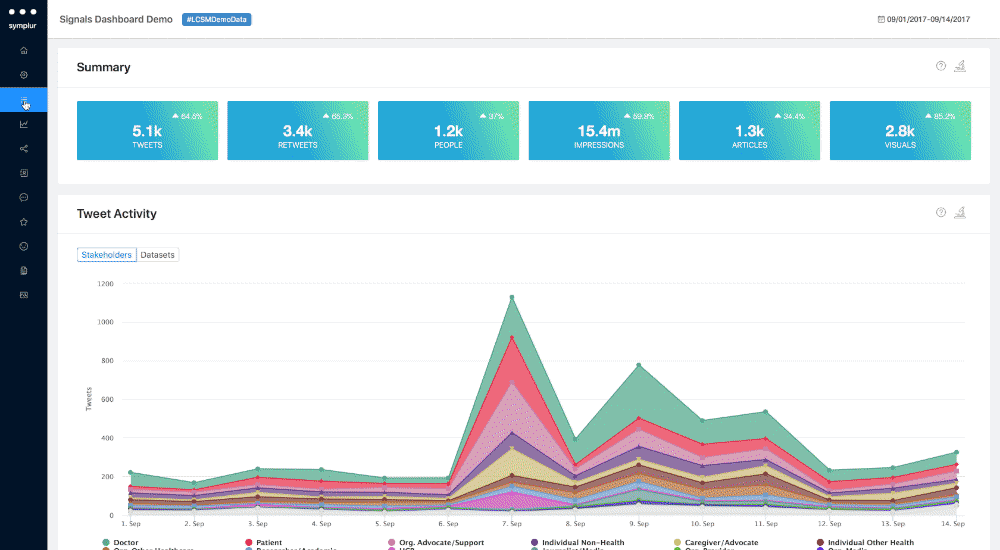 At the moment we are demoing a couple of weeks of public #LCSM (Lung Cancer Social Media) conversations – one of our favorite communities. Our goal for this product is to strengthen the quiet voices in healthcare. And to get there we need both a willingness to listen to their experiences and we need an effortless way to be exposed to those voices. The Symplur Signals Dashboard is our path towards a deeper understanding gained from these conversations. We hope you will see the potential in this demo dataset.
What you will be exploring is just one of the tens of thousands of datasets available in the Healthcare Social Graph® which includes all areas of medical care, policy, conferences, diseases, influencers, pharma, media and medical devices.
The Symplur Signals Dashboard is our product for easy consumption of the most important insights from any healthcare topic. For a deeper dive, our customers pair it with the Symplur Signals Analytics product that allows them to go further in their areas of interest with its advanced reports and powerful filtering.