The Ebola virus outbreak was the biggest news story of 2014, and while it actually started in late 2013, it continues today.  Mainstream media began leading its daily stories with Ebola in late July, 2014, and it was at that time that Symplur began tracking the related conversation on Twitter.  Now, with the number of active cases dropping substantially, we can take a step back and view the life cycle of this event and how it has played out on Twitter by delving into the tweet data on the #Ebola hashtag.
Ebola on Twitter … a change in pattern
In the eight plus months since we began capturing and analyzing Ebola on Twitter there have been major news stories that seemed to fuel the online conversation.  The data told us that much of that reaction was likely based on fear.  And, unfortunately, much of it was also based on ignorance and a sense that it was a distant, non-threatening "side-show".
The image below displays some of those news events and their impact on the subsequent conversation on Twitter.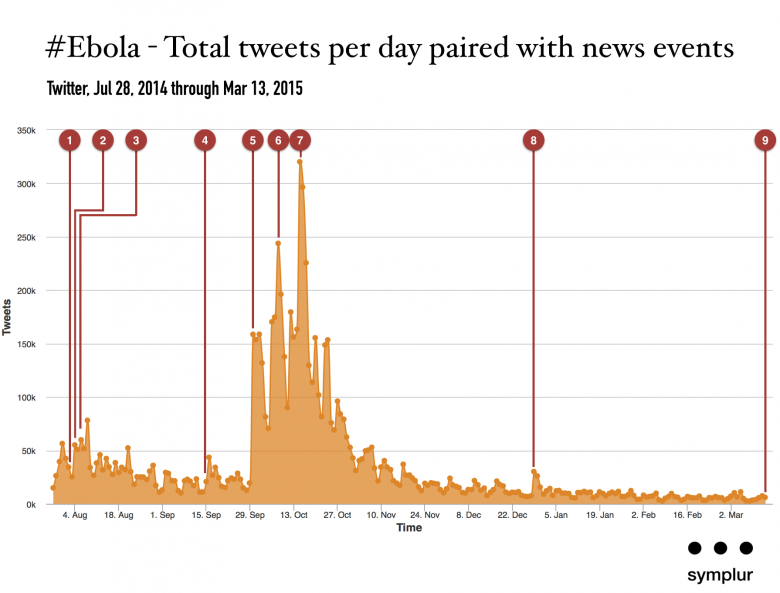 August 2, 2014

– First US Ebola patient arrives at hospital in Atlanta, Georgia.

August 5, 2014

– Second US Ebola patient arrives at hospital in Atlanta, Georgia.

August 7, 2014

– First European Ebola patient arrives in Madrid.

September 15, 2014

– President Obama announces that the US is sending up to 3,000 troops to West Africa to assist in responding to Ebola outbreak.

September 30, 2014

– Man in Dallas, Texas is first to be diagnosed with Ebola on US soil.

October 8, 2014

– Man diagnosed with Ebola in Dallas, Texas dies of the disease.

October 15, 2014

– Second nurse caring for Ebola patient in Dallas, Texas is diagnosed with the disease.

December 29, 2014

– Woman is first to be diagnosed with Ebola in the UK.

March 13, 2015

– Healthcare worker who contracted Ebola while volunteering in a Sierra Leone arrives at Maryland hospital.
The above represent only a handful of the many noteworthy events during this outbreak.  However, they demonstrate over time how the news stories drove surges in the discussion of Ebola on Twitter.
We can also see how the latest announcement of an Ebola case arriving on US soil has barely caused a blip on the graph.  Why is that?
A closer look shows that in spite of this most recent event, activity actually drops off from preceding weeks.  This is in stark contrast both in pattern and total number of tweets from when patients arrived in Atlanta as the first two cases of Ebola on US soil last August.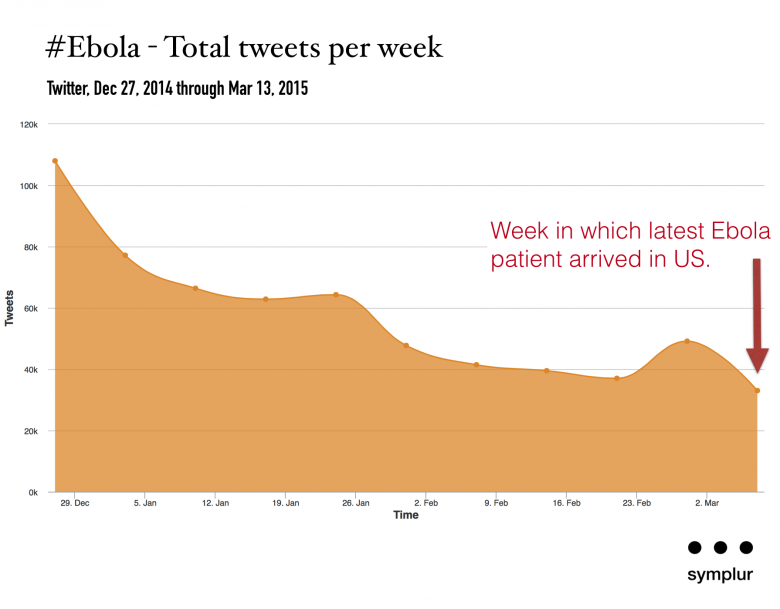 Does this change in pattern on social media reflect a growing indifference to a serious health threat?  Have we become used to all the noise?  And, if so, is it because the feared global spread never occurred?
Ebola, Twitter, and sentiment analysis
Looking further into this "non-reaction" we compare the sentiment of tweets that occurred on the day in which the first Ebola patient was brought to the US vs. the day the most recent Ebola patient arrived in the US.  For both days we first filtered tweets to only address those that included variations of the word "arrive", thereby allowing us to drill down to the sub-conversation specific to the arrival of the patients in question.  In this measurement a score of "1" is extreme and seldom seen.  As such, we instead look at variances when comparing the two data sets.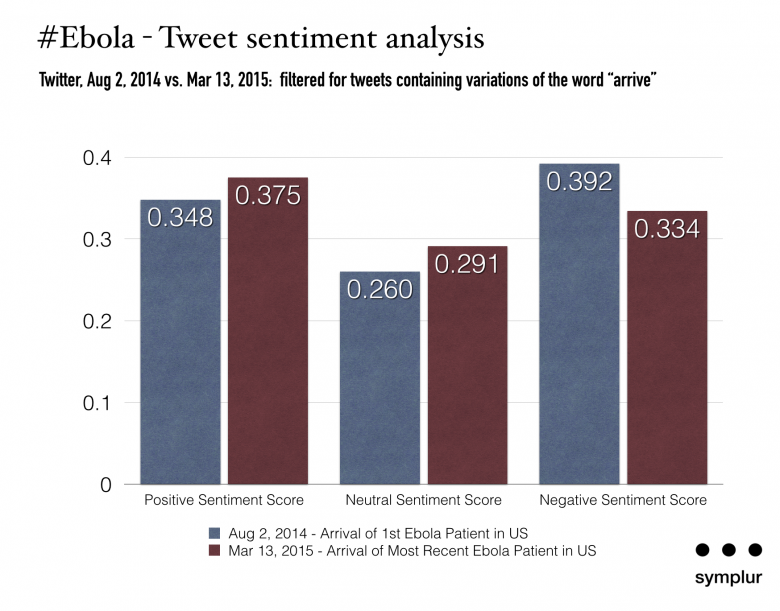 In this case we see an obvious shift in public perception.  Most notable, when looking at the negative sentiment score from the first date to the next we see it drop by 14.8%.
This shift in attitude is further demonstrated in the following two tweets.  Both of which were among the very (extreme) most negative tweets on the two days studied.  The difference in tone is obvious.
August 2, 2014, first ebola case arrives in the U.S. – Negative sentiment score of 0.889
Perfect script for a bad movie."@ewnreporter: A plane carrying a US aid worker infected with the deadly #Ebola virus has arrived in Georgia.

— Wilbar Steenkamp (@Wisteen) August 2, 2014
March 13, 2015, most recent ebola case arrives in the U.S. – Negative sentiment score of 0.667
The significant point that this data brings home is that our "fear-factor" appears to have dropped off, while at the same time the "indifference-factor" may have increased.  One could say this is both good news and bad news.  Irrational fears have subsided, but there may also be an all too casual acceptance that again pushes the topic dangerously far out of our thoughts.  Meanwhile the disease persists in the very real lives of our global neighbors.  Just a stone's throw away in today's mobile society.