"Web 1.0 was where corporations thought the internet was another dandy platform for telling us what they wanted us to know. Web 2.0 was where we showed them that the internet is about us, not them, and that if they want to stay around, they'd better sit back, shut up, and listen. Web 2.0, like Rock and Roll, is here to stay."
~  Ray Beckerman (@RayBeckerman)

---
The Journey
My then 16 year old daughter stared at her newly created Twitter account, carefully contemplating her first tweet.  The look on her face was one of complete bewilderment.  "I'm eating ice cream" she quickly typed, and assertively hit the tweet button.  After a few moments more of staring at her Twitter home page, with its one lonesome tweet now on display and looking like an abandoned thought, she turned to look at me and proclaim with typical teenage passion … "This is stupid!"
Months later, as my healthcare consulting business was becoming more involved in social media, I too created a Twitter account.  Not surprisingly, I was quick to recognize the same perplexing feelings that my daughter had during her ever so brief, one-and-done trial of this ever growing phenomenon known for its 140 character expressions.  So many questions were crisscrossing my mind …
"What do I do with this?  How do I make this relevant?  Who on earth is going to care what I have to say (with 140 characters) in this forum?"
So, I picked a few high level organizations to follow, did a little reading about hashtags, and resorted to being a wall-flower for the next couple weeks.  Watching, reading, learning.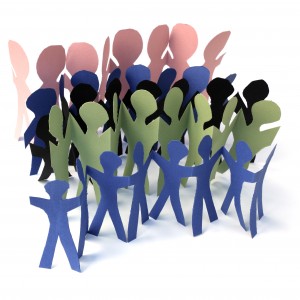 Finally, I took the leap.  And through trial and error found my stride, found meaning to the process, and most of all … found a whole lot of wonderful and interesting people.  They're not "peeps" to me, they're real people with whom I've found common interests, from whom I've learned, of whom (I hope) I've helped.
Twittering in Healthcare
Given my profession, I'm naturally inclined to follow Twitter users who are associated with the healthcare industry.  Mostly in the areas of Electronic Health Records (#EHR), Practice Management (#practicemanagement), and HIPAA (#HIPAA) related issues to name a few.  Also, through the medium itself, I found myself drawn in to the whole notion of healthcare social media (#hcsm, #hcsmeu) and how fascinating it all was!  As a matter of fact, you may find benefit reading through a previous blog on this site titled, "Who to follow on Twitter within your medical specialty".
One of the fine individuals that I chose to follow is a physician who goes by @hrana, who espouses a great mix of medical and tech/gadget enthusiasm, all packaged into what I would call a nice, down to earth guy.  But he had something that I'd never seen before.  A "Twitter Refollow Policy", for which he gives credit to @raybeckerman for much of its contents.  Being naturally curious, I just had to check this Beckerman character out.
Well … have you ever had one of those moments when you finally decide to look at the instructions (after the fact)?  Only then finding out how easy the task at hand really was?  That's how I felt about Twitter after having found Mr. Beckerman.
The Rules
Ray Beckerman works as an attorney and is noted for his analysis and commentary on the RIAA's copyright infringement lawsuits against individuals engaged in unauthorized peer-to-peer file sharing of music.  He's also a prolific presence on Twitter where he discusses human rights, politics, music, and a whole host of other topics.
However, what I'd like to draw your attention to is Mr. Beckerman's blog called "Ray's 2.0" in which he discusses the nature and use of the internet, largely based on Twitter, as it has evolved into an interactive space rather than the static, one-way communication that we are accustomed to through other mediums.  And it's here that three, specific little gems (blogs) emerge.  Each provided to help guide any Twitter user, new or seasoned, toward more enjoyment, more gain, and more credibility.
Mr. Beckerman's Twitter guidelines are simple …
(some excerpts)
Be yourself, not phony.
Don't be all about yourself, take an interest in others.
Don't worry about how to get a lot of followers.  Just follow, and pay attention to people you appreciate.
Since sharing and conversation are what Twitter is really all about, for me, the "@" is what it's all about.
A Retweet is saying to someone, "I value you and what you have said, and want to share it with all of my Twitter friends".
These guidelines apply equally to a 16 year old girl who is exploring Twitter for the first time, a middle-aged professional who wants to network and share, or a social media rep for a large, multi-national corporation.  So here they are.  Some brief, enjoyable, and well worthwhile reads for all of you who have been, or are contemplating  entering into "the conversation".  And yes, it is a conversation … not a megaphone.  So if you're here for social reasons, great!  And if you're here for business reasons, that's fine too … but do be social.
Thank you, Mr. Beckerman.  I appreciate having "met" you.  ~  @tmlfox