In the two previous posts in this series of Twitter visualizations, we've looked at the growth of patient communities and the dynamics and centrality of one of them. This time we will take a deeper look at the people who make up these communities.
From looking at the visualization below (PDF version), one can think of them as virtual communities set in space like constellations of stars but with people orbiting one another. The laws of physics still apply, but gravity has become a function of conversations. Conversation is gravity. Boundaries are broken down. Traditional barriers like location, profession, demographics, physical abilities and conditions will not stop you from joining in. The world is flattening. And because many traditional hierarchies and perceptions are eroding as a consequence of healthcare social media, new types of communication and communities are emerging. Twitter is the new melting pot of ideas, people, and disruptive innovation.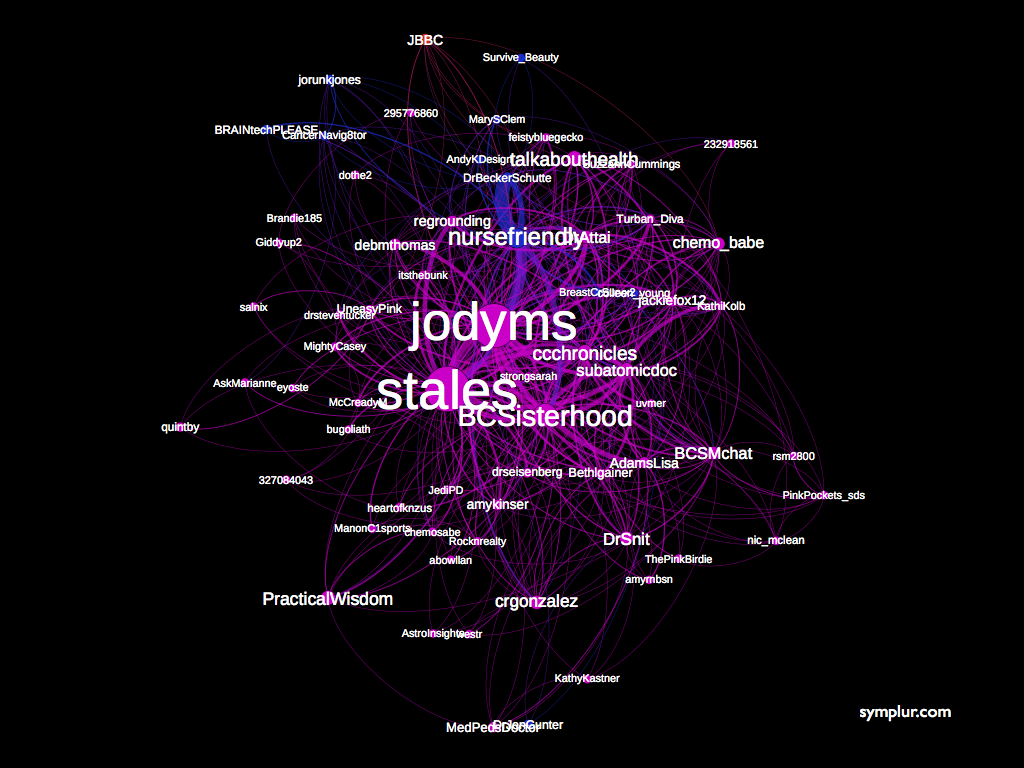 Is it this melting pot of people, experience and knowledge that makes Twitter so attractive for patients that they are willing to trade some privacy in return for the benefit of joining in? In our series we've categorized these communities as patient-centric, but as many participants can testify, the members are made up of more than just patients. Our focus this time is the #BCSM community, Breast Cancer Social Media. Below we have pointed out some of the patients represented (not all are highlighted).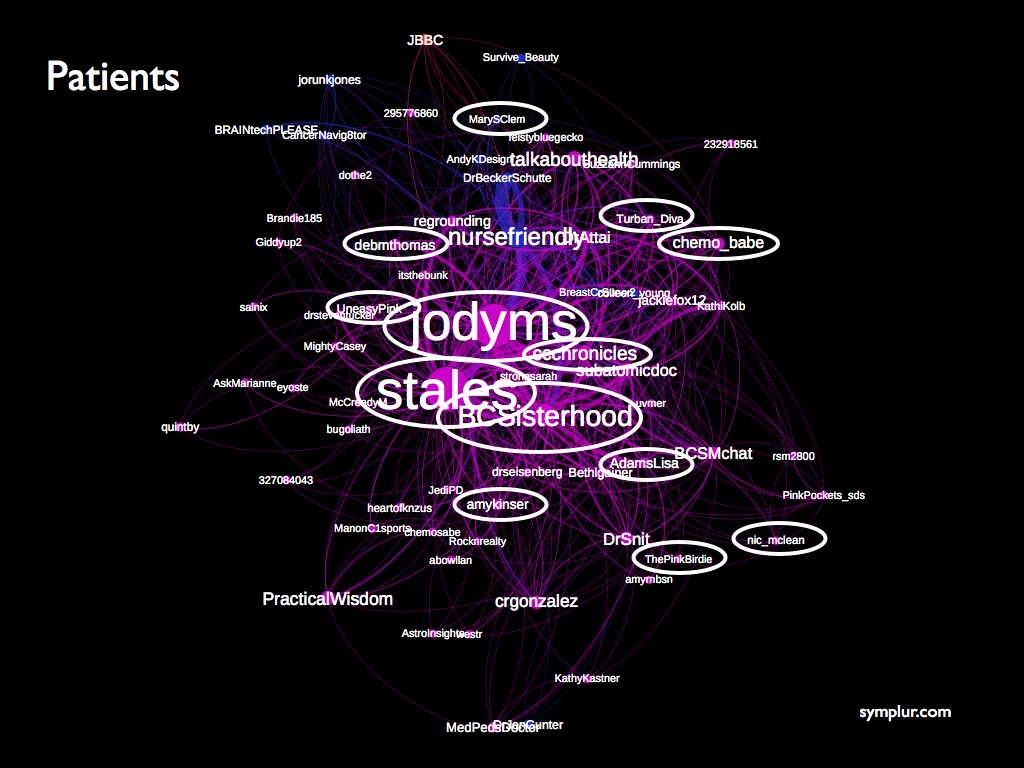 In our first post we created a visual from about 100 million tweets over almost 2 years, while in our second post the time span was one month. This time we are looking at a snap shot of only 1 hour. But this is not just any random hour, it's the hour of the weekly scheduled #BCSM tweet chat. These tweet chats are the epitome of a melting pot – stakeholders from many different professions exchange and discuss ideas relating to a few pre-defined topics compressed into an hour time frame. The energy can be explosive. This visual is a network centrality analysis. The larger the node, the more central or influential a member is. Links between nodes signify a direct interaction or conversation between the two. In the following visual we point out some of the healthcare providers represented (not all are highlighted).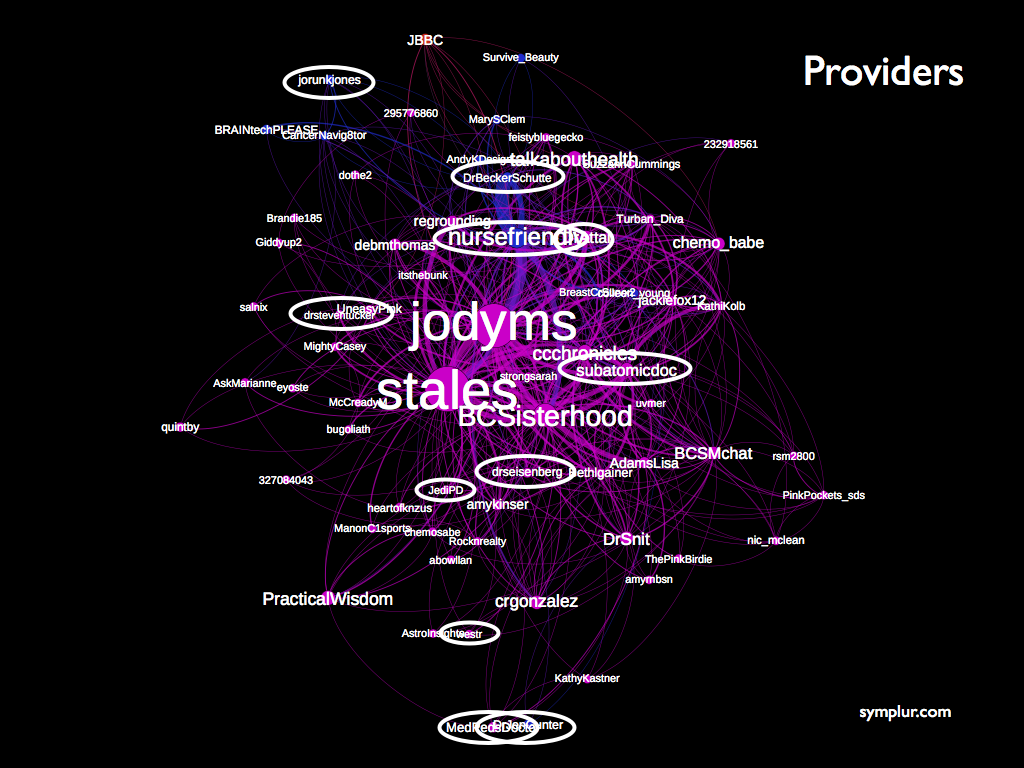 Twitter provides a convenient and powerful place for patients to meet other patients where they can both receive information but also give information from their own experience – it's that human need created in us to share knowledge which has powered much of social media. However, from the visual above where we've highlighted nurses, physicians, a pharmacist, etc., we can see a larger view of the attraction Twitter has for patients.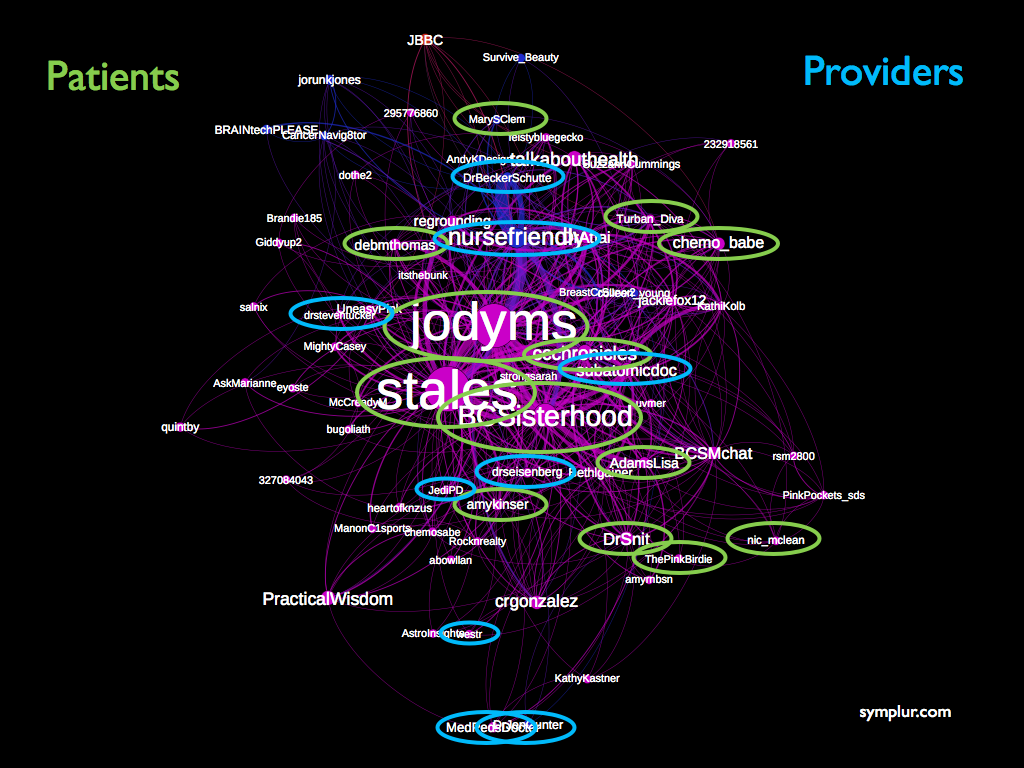 Many patients on social media are very engaged, many are living with chronic conditions, cancers, or rare diseases, and many have more than just knowledge to impart to others – they want to change the way healthcare is delivered. Change can only come about in a public space, you've got to step out from the echo chambers of private forums. The open and public nature of Twitter provides a platform where people can find a cross section of all the relevant stakeholders in healthcare. A birthplace for disruptive ideas. The perfect place for engaged patients, engaged providers, and the supporting third parties.