It's been almost two months since we launched the Healthcare Hashtag Project and we have done a few incremental updates since then, but today we're excited to announce some great new features that we hope will be useful for the community.
1,000,000 Healthcare Tweets!
Since the start of the project we have been creating an archive of all tweets that have been tagged with the healthcare hashtags we follow. Using these 200 non-disease hashtags, you have created over 1 million tweets!
This number is simply staggering! Even when we eliminate "spam" from certain hashtags, it's beyond doubt that there are an incredible number of conversations taking place in a large number of medical specialties and healthcare interests. There is much to gain and little to loose by joining the conversation. The goal of the "Healthcare Hashtag Project" is to make the use of Twitter more accessible for providers and the healthcare community as a whole by lowering the learning curve of Twitter with a database of relevant hashtags to follow.
Long-tail hashtags
From these 1,000,000 tweets, a large number of conversations take place in mainstream communities like #hcsm, #hcsmeu. These hashtags sometimes work as the initial facilitator from which the medical community branch out and end up in more focused "long-tail" hashtags. As more and more healthcare professionals embrace healthcare social media in general, and Twitter specifically, we expect these "long-tail" health hashtags to increase in use and to bring much value to providers, patients and the industry in general.
Hashtag Transcripts
Today we are rolling out o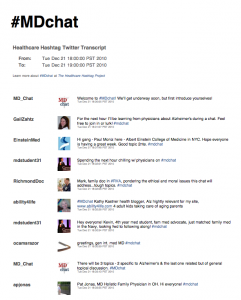 ur twitter transcript function to all healthcare hashtags we follow. Previously we have only provided this feature for the healthcare tweet chats ( #hcsmca, #MDchat, #RNchat, #RDchat, #hcsmla etc.), but the transcript tool is now ready for a greater work load.
This transcript tool has a simple and clean layout, but with flexible functionality. You control the timeframe of your transcript down to the very minute. And it's live! The live feature means you can setup a transcript timeframe that's in the future and you will see your transcript grow as the future becomes realtime using the same URL or link.
We are also extending this functionality to hashtags for healthcare conferences.
A trusted transcripts archive
This twitter transcript database has proven to be very reliable. Two mechanisms work simultaneously to make sure we have all the tweets (even when Twitter itself has service problems).
We retrieve all tweets from a live API feed, and save all those who contain the healthcare hashtags we follow.
Every 1-2 hours our service goes back to Twitter and does an automatic API search for each hashtag, and compares the results with the tweets we already have in our database.
This two staged process makes our database very reliable.
PDF twitter transcript
A popular request we've heard from the community has been PDF creation of the transcripts. Creating on-demand PDF files on the server side is a pretty complicated process, so we are rolling out this feature in baby-steps. There is currently a 500 tweets limit (about 40 pages), French/Spanish characters are supported, but not Japanese yet (#hcsmasia) and the creation process can be slow, so be patient :) Here is an example #MDchat pdf transcript created live on-demand.
Other features we have added:
The option to include Twitter profile pictures in the transcript
The option to remove retweets in order to create a cleaner transcript
The option to reverse the chronological order in the twitter transcript
A special clean print version of a transcript
We hope you will find value in these new features and improvements!
And again, thank you so much to all of you who have participated and contributed to the project:
@aapaorg @rawarrior @MarbleRoad @diabetessocmed @StaciDale @health20paris @futuredocs @thinkbirth @qicprogramme @Colleen_Young @healthstandards @CCKeating @ShingoKushioka @PhilBaumann @andrewspong @MarkHarmel @hjluks @dermdoc @angel189 @pathwaymedical @callooh @innuo @socialbttrfly @lizditz @CACHCA_RCACCS @nutrispeaking @EileenOBrien @GailZahtz