Facebook Places and the Healthcare Industry
On August 18th Facebook finally launched their long expected entry into the location-based social network scene. We can say pretty safely that this is going to be another milestone for healthcare social media. With over 500 million members, whatever direction Facebook chooses to go with this new feature, it's going to make a big splash.
Read our previous article on why Facebook Places is going to impact medical practices and the general healthcare industry.
Who is listed in Facebook Places's Database?
Facebook is sourcing all its business listings from Localeze, a company that specializes in business listing and identity management for local search engines.

Localeze has supplied Facebook with about 600,000 verified business listings. While that may sound like a lot, it really isn't considering that there are about 30 million businesses in the U.S. today.
Our own research has shown that Localeze's database which was supplied to Facebook is fairly lacking when it comes to healthcare-related businesses. Their focus is on the general consumer, not the patient.
Will you be the first to take control of your pratice's listing?
This means that there is a fairly large chance that your medical practice or dental office is not listed. Consequently, you are currently under the mercy of any Facebook user who wants to virtually "check in" to your practice to create your listing, spell your name correctly and add a correct description.
Leaving the control of your first impression to random Facebook users should not be acceptable to any responsible healthcare organization.
Any hospital or private practice can create an account with Localeze directly and manage their listings from their portal. However, the greatest impact from this listing will come from Facebook; therefore we recommend you to manage your presence there directly, and not via Localeze.
Follow these 3 simple steps to add your medical group to Facebook Places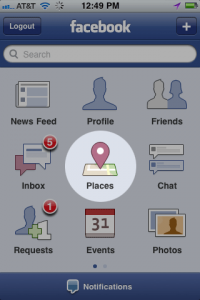 Step 1 – Fire up the Facebook app for your iPhone. You will see the new icon for Facebook Places (Facebook doesn't list any other phones, but if you have a browser that supports HTML5 you should be fine, touch.facebook.com).
---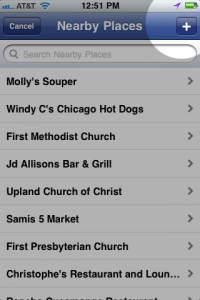 Step 2 – You've got to be physically located at your practice. If your medical practice is not listed, click the + sign to add it.
---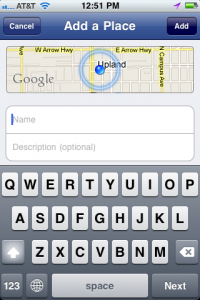 Step 3 – Write in your business' name and description.
---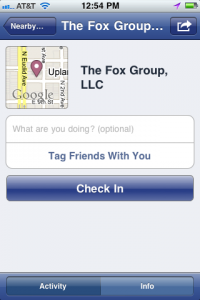 You're done! But you might want to check in right now.
---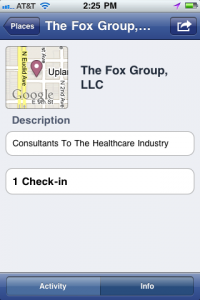 As you can see, Facebook Places is pretty limited and quite boring at this moment. Expect major changes and opportunities for your practice in the near future.
---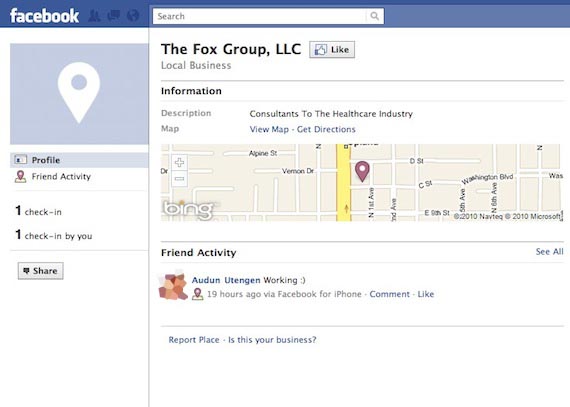 This is how your Facebook Places "page" looks right now from a normal browser. Again, we see clearly that Facebook has only taken a baby step so far. We will see more integration and possibly a merge of your medical practice's Facebook Page and Facebook Places soon.
---
Where to go from here?
We've only seen the beginnings of location-based social networks; Facebook is really bringing this technology to the masses. And again we are witnessing the power of social.
As with everything else in social media–there is no way for medical practices to opt out. Your online presence is created with you or without you.